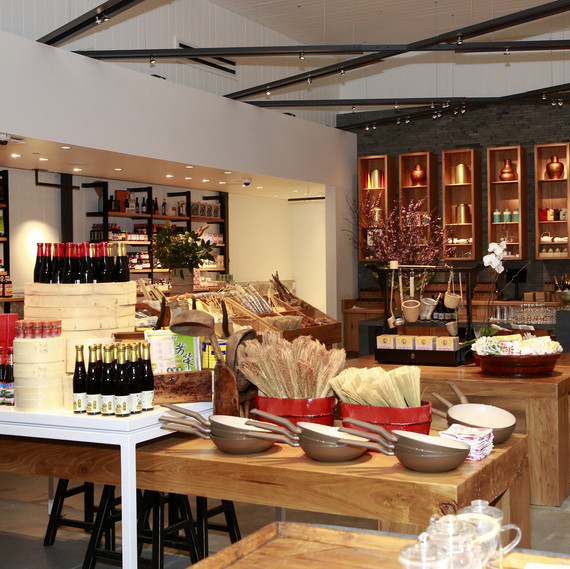 Talk about a one-stop culture shop! At China Live you can eat, drink, shop, lounge, and learn all under one roof. The 30,000 square foot marketplace-eatery, which opened March 1 in San Franscisco, also features a fresh flower stand, a specialist tea cafe, and a full bar, all with Chinese and Taiwanese influences.
The masterminds behind China Live are restauranteurs George Chen and Cindy Wong-Chen, and they have been hands-on in developing their dream for the last three years. From curating spices to designing the Cafe's custom teapots, Chen tells Eater SF that he hopes "People will find authenticity and creativity within what we do."
(READ: about Asia's best female chef -- and the delicious "burgers" she serves)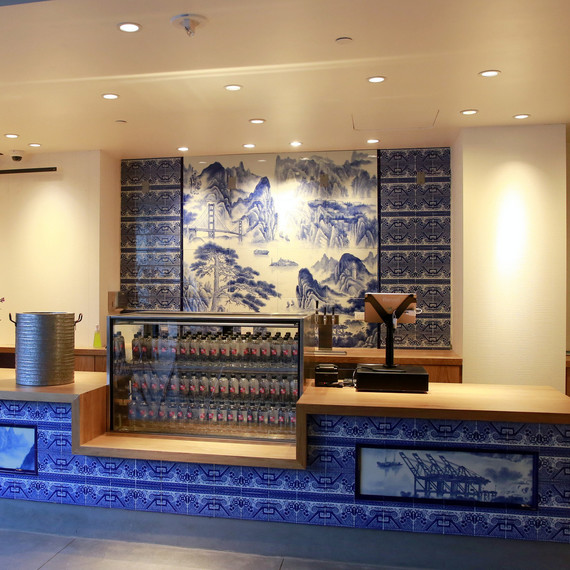 The space itself -- with minimalist wood paneling, copper counters, and hand painted tiles -- is as exquisite as the teas served at the Oolong Cafe. Sip pan-roasted brews from Hangzhou, oxidized red tea from the Fujian province, or try Chen's original "Eight Treasure" blend with hints of rose, goji, and chrysanthemum. Snacks include the Yonut, a delicious hybrid of Cronut and the traditional Chinese fried cruller dough.
For the extra-hungry, the 120-seater Market Restaurant features a daily dim sum menu as well as individual counters dishing up Chinese barbecue, seafood rice bowls, stir fry, dumplings, and dessert. And if the sound of "five flower pork belly buns" or "Singapore wings in pepper-salt" aren't making you drool, crème brûlée egg tarts and mango shaved ice definitely will.
Post-nosh, peruse the marketplace where items include glazed Malaysian porcelain, whiskey barrel-aged fish sauce, starfruit vinegar, and enough varieties of soy sauce to tingle tastebuds for months. Guests can also catch cooking demos and tastings. Chen focuses on freshness and sustainability in his choices for the rotating inventory of foods and many items have been created exclusively for China Live, so each visit promises to be a tasty new experience.
(CHECK: out the new Eataly in Boston)
"I want people to learn about Chinese products at the core," said Chen. "If you don't understand the ingredients, then the cuisine is scary. If you can taste things and understand them, it's not so scary." We'd say it's downright delicious!