Nutrition

7 Ways to Have Tart Cherry Juice (Other Than Drinking It Straight)
Tart cherry juice isn't just delicious—it also happens to be linked to certain health benefits. For example, research has shown that it is associated with better sleep in older adults who struggle with insomnia (it's a natural source of melatonin). It may also help reduce inflammation in women with osteoarthritis, according to another study. And other researchers found that drinking tart cherry juice in the week leading up to a long race and during it can reduce post-running muscle pain. Scientists think one reason for all these benefits might be because cherries are high in powerful antioxidants called anthocyanins and other flavonoids. Even if you're not drinking multiple bottles a day, a serving of tart cherries or their juice is still a great source of vitamin A.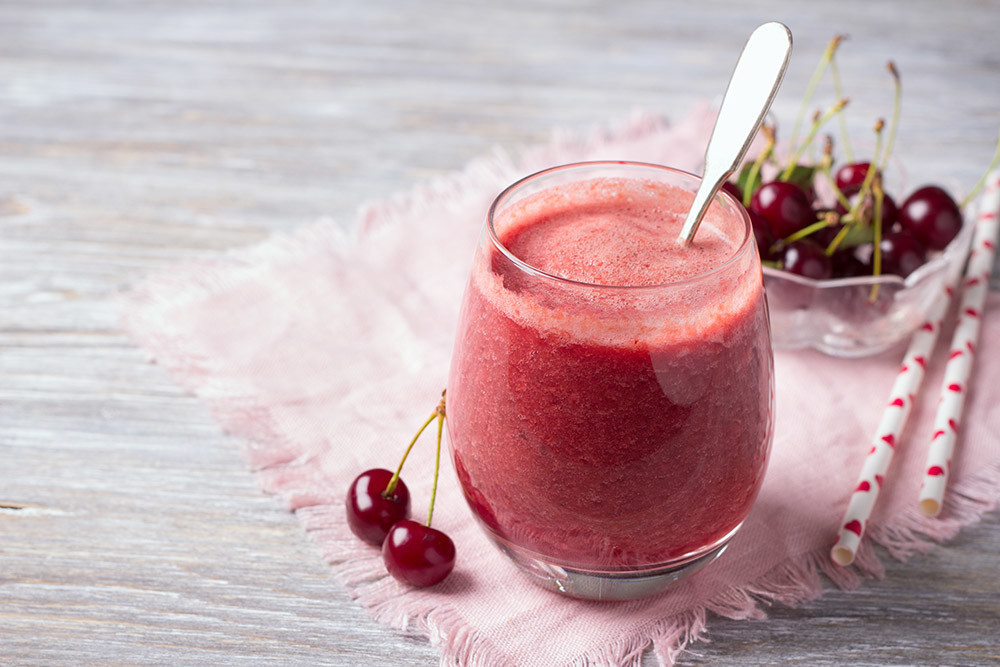 Now that you know how good tart cherry juice can be for you, you're probably wondering how you can consume more. Sure, you could drink a glass straight, but there are more creative ways to add tart cherry juice into your diet.
Raspberry Rosehip Iced Tea: Opt for cherry juice instead of raspberry and you have the perfect healthy summer beverage.
Coconut-Cherry Smoothies: Blend up whole, frozen tart cherries and the juice, plus some coconut water and ice for a refreshing and hydrating post-workout beverage.
Cherry Glazed Doughnuts: Okay, so this one is a little more good for the soul than the body, but if you love the flavor, you'll love these. All you do is mix together tart cherry juice and powdered sugar to make the perfect glaze for a doughnut (if you need one, here's a great doughnut recipe to try). Feeling indulgent? Blend together a doughnut, some ice cream, and the cherry glaze for an over-the-top cake shake.
Cocktail Cherries: You know how a good cherry can be the best part of an Old Fashioned? Instead of buying a jar, try making your own. Fresh cherries get covered in tart cherry juice, sugar, and liqueur, then stored for a week before finding their way into your favorite cocktail.
Sour Cherry Rose Jellies: If you want a dessert that wows your next dinner guests, this is it. Rose wine and tart cherry juice get turned into an elegant gelatin.
Cranberry Cherry Mold: It doesn't have to be a holiday for you to get out your gelatin mold and fill it with cherries, cranberries, cherry juice, sage, and vanilla.
Cherry and Lemon Verbena Sorbet: Liquefy your tart cherries in your food processor to make a fragrant sorbet perfect for warmer evenings.
Get more great health and wellness stories at MarthaStewart.com/Strive.