Health

Got Heartburn? Try Some At-Home Spaaa-ing
Instead of giving into the stress causing you problems, get rid of it with a relaxing routine in your own bathroom.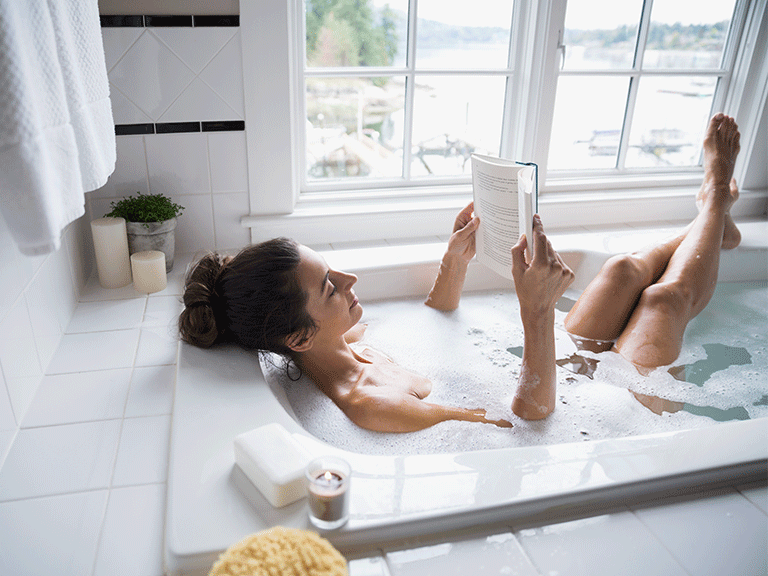 If, every Sunday night, you experience sudden panic and stress about the oncoming workweek—and all of the deadlines, errands, and carpools on your schedule—you're not alone. After all, those feelings are called the Sunday Scaries for a reason. And, in addition to ruining your weekend, that frequent stress can lead to equally frequent heartburn. So instead of giving in, skip the stress altogether with this hour-long spa routine (put your partner in charge of the chores and the kids). You'll be so busy treating yourself that you won't even remember which day it is.
Step One: Run a Bath
A bath is a surefire way to slow things down. Draw a warm bath, add in scented bath oil (which will soften your skin, to boot), and queue up your favorite playlist. If you're close to bedtime, make yourself herbal tea. Hey, why not commit to self-care?
Step Two: Work in a Hair Treatment
As you're filling the bath, dampen your hair and work in a hair treatment. This could be anything from a scalp mask (which exfoliates and soothes a dry or itchy scalp—and is a must if you use dry shampoo) to a mask made for color-treated hair, which restores vibrancy and softness. By combining it with your bath, you don't have to worry about drips on your clothes as you're waiting for the mask to work its magic.
Step Three: Start Scrubbing
Once your bath starts to feel more lukewarm than warm, it's onto a body scrub. Look for a scrub formula that contains hydrating oils, which will moisturize your skin as you exfoliate. Drain the bath, turn on the shower, and scrub up. Then, rinse off both the body scrub and your hair mask. Towel off and apply a rich body cream.
Step Four: Multitask With a Face Mask
The best is saved for last: Multi-masking. Certain ingredients and treatments benefits certain areas of your face, so multiple formulas may give you a better result than one alone. Slather a clay mask onto oily areas, like your T-zone and chin. Then, apply a hydrating mask formula everywhere else. (No shame if you keep it simple with a sheet mask.) While that sinks in, gather up your PJs, book, and whatever else you need to be ready for bed. Monday will still happen, but after this spa night, you'll be ready to take it on.