Fitness
Here's How Meditation Classes Differ from At-Home Practice

+

A lot of it depends on you.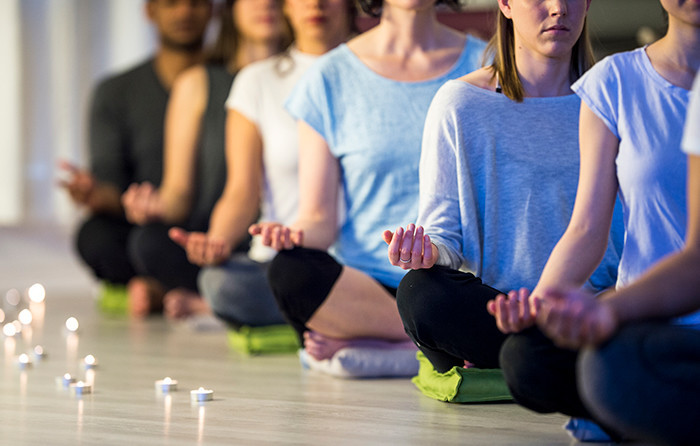 I'm not great at relaxing. I'm also terrible at sitting still and being quiet. That's why meditation didn't really seem like it would be my thing. But the benefits of meditation are well-known: One comprehensive scientific review found moderate evidence that practicing meditation can help reduce multiple kinds of psychological stress, like anxiety. A different small study reported that just a few weeks of meditation may help improve attention span, and a study by UCLA suggests that people who have meditated for a long time experience less age-related brain atrophy.
Frankly, we all could stand to try meditating—which is probably why the use of meditation increased more than threefold from 4.1 percent in 2012 to 14.2 percent in 2017, according to the Centers for Disease Control and Prevention; in fact, the practice is so popular that boutique fitness studios and gyms have started offering classes.
But does going to a meditation studio or class really offer more than just trying it in a comfortable space in your own home? I decided to try both, and found that for me, absolutely.
Because I'm a meditation novice, I started out at MNDFL, a meditation studio in the middle of Midtown in New York City. It doesn't get louder outside than Manhattan during rush hour, but stepping inside was like entering a lush oasis, complete with living walls, hanging plants, and chic furniture. I prepped myself for a blissed out experience: I wore comfortable leggings and an oversized sweater, applied ChapStick Essential Oils in Peace Rosemary Peppermint to my lips, and completely turned off (off!) my phone.

In the meditation room itself, I sat on a comfy pillow, closed my eyes, and let my instructor's voice wash over me as he walked us through setting intentions and breathwork. Even though sitting in one spot makes me fidgety and there were distractions (like a student who walked in five minutes late), listening to someone else in the room helped me focus on the instructions and stay relaxed—and I stayed tuned in enough that I made it 29 minutes into the 30-minute class before checking my watch.
"Meditation classes are more than a comfortable space," says Helen Odessky, a licensed clinical psychologist in Chicago. "Since meditation is very difficult to learn, a class can offer support and guidance from the very beginning of the journey. It can help normalize the idea that this skill takes time to acquire and help with hiccups along the way—like what to do when your mind wanders or when you think you can't get the hang of it."
That was never clearer to me when I tried to meditate on my own at home later that week. It took three times for me to actually commit to a practice (just like with working out, I have no sense of accountability when I don't pay for a class and have to show up at a certain time). I prepped myself the exact same way I did for the class. But there were so many distractions in my apartment: my cat, the street noise, and the fact that my refrigerator was so close by. Without an instructor to guide me, I let those distractions get in the way of my focus. I finished my 30 minutes, but didn't feel nearly as relaxed afterwards as I did after I took the meditation class.
"I suggest at least learning from an expert first so that you can develop a process that is right for you," says Ann Swanson, a meditation instructor and the author of Science of Yoga. "You can learn meditation in a studio or class, or at home using apps. From there, you can build your own home practice."
If you don't know what you're doing, you might not even reap the benefits. When people just sit there, close their eyes, and take deep breaths without any idea of as to what proper meditation technique entails, researchers discovered that it's not as helpful as actual meditation.
The good thing about meditation, though, is the fact that there isn't a right or wrong place to practice it. But the key word is practice: Wherever you do it, you have to make time for it every day in order to create the habit and reap the benefits, and what that looks like is different for everyone. For me, at least, that's not going to be on my living room floor just yet.
Get more great health and wellness stories at MarthaStewart.com/Strive.