Health
How to Make Travel Go More Smoothly

+

Keep a fully stocked toiletry bag in your suitcase and you'll never be missing essentials again.
Between longer-than-ever security lines and dollhouse-sized airplane seats, travel can wear on the nerves of even the most patient person (you're not alone if you morph from Dr. Jekyll into Mr. Hyde as soon as you print out your boarding pass). But a few smart tricks can make the process a little easier.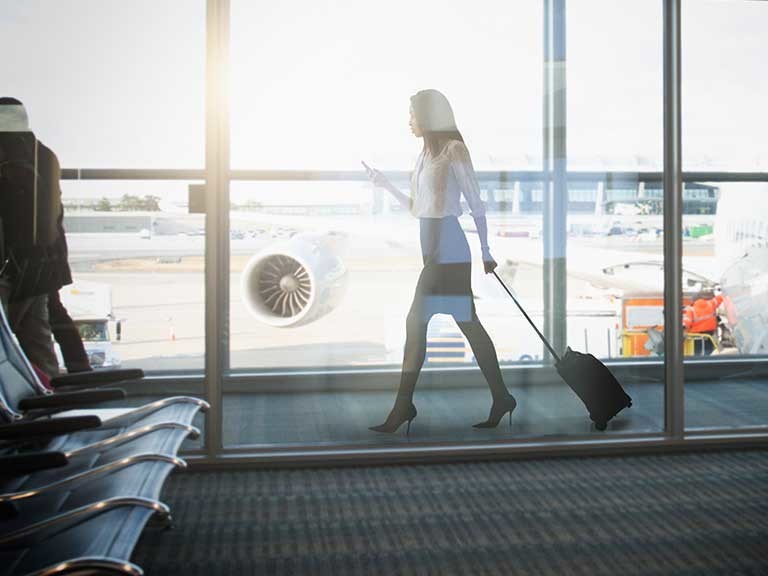 Check in Extra Early
Unless you plan on checking a bag the size of a small whale—or your travel plans change at the last minute—there's no reason you need to check in at the airport. Register at AirlineCheckins.com, which automatically checks you in and sends you the boarding pass once the check-in timeframe becomes available. Don't worry: It'll take your seat preferences into account. If you love a window seat toward the front of the plane, it'll try to select just that—or at least close to it.
Stock a Toiletry Bag…
The night before a flight, and all through the house…is you, trying to figure out where you stashed your travel-sized shampoos. Make the 3-ounces-or-under policy a breeze and appease the TSA by stashing all your travel sizes in your luggage even when you aren't traveling. Keep a plastic bag packed with essentials, like a mini cleanser, moisturizer, shampoo and conditioner, and even mini bottle of contact lens solution. Having dedicated, travel-only versions of staples like your toothbrush and contact lens case will also ensure that you're never stuck making a late-night trek to the drugstore.
…That Includes a First-Aid Kit
An essential rule of smart travel: It's better to be safe than sorry. If you're abroad—or just somewhere a little more remote—you probably won't have access to your usual drugstore or corner store. Stock a first-aid kit with bandages, antiseptic wipes, and Advil. You won't have to worry about a pounding headache, blisters, or a cut interrupting that hard-won vacay.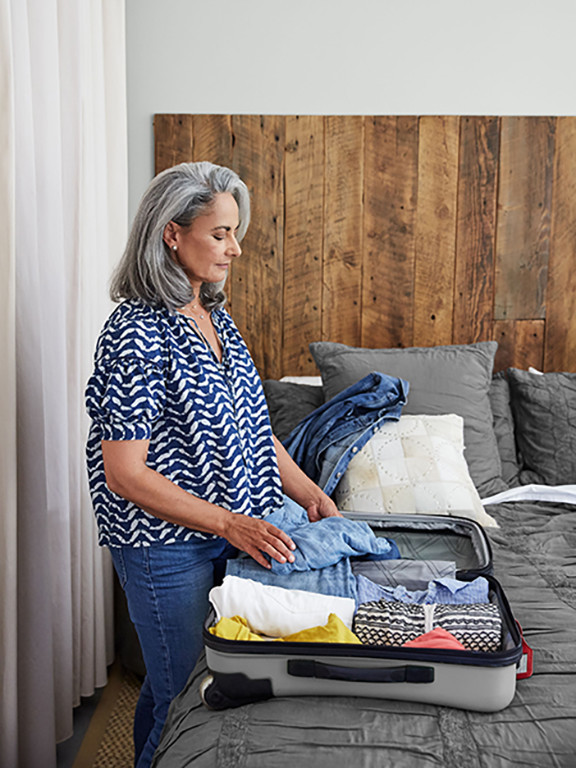 Invest in Packing Cubes
Even if you're the world's most organized packer, packing cubes will take you to the next level. For one thing, they'll truly help keep your shirts from your socks from your dirty laundry. But the real magic is in their compression capabilities: they'll give you more suitcase space (hello, souvenirs!) and they'll keep your clothes from getting wrinkled, so you can leave your portable steamer at home.
Use Mobile Check-In for Your Hotel
That endless line to check into your hotel room after a red-eye? You can (finally) forget it. Some hotels, particularly those from larger chains, allow you to book and check into your room all on their respective mobile apps. You can even unlock some rooms with a quick tap of your phone. The faster you get into your hotel room, the sooner you can be lounging by the pool.
Do Homework on Your Seat Choice
All coach seats are not made equal. Enter your flight info on a site like SeatGuru.com and learn which seats have the most legroom—and, just as important, which seats don't recline or are right next to the bathroom. Plus, you'll get helpful info about whether there's any in-flight entertainment or internet service on your flight. With airlines being extra skimpy on the perks these days, it's worth knowing what to expect when you book.
Pack Your Own Snacks
Whether it's a flight with limited options or a road trip with 85 miles between rest stops, you're going to hit a point when you need a snack and there's no food available. Prevent hanger by bringing along your own travel-friendly snacks, like cheese crackers or dried fruit and nut bites.