If you've been trying to eat less meat, you're probably already super-familiar with ways to use ingredients like tofu and seitan. But you may have started seeing another ingredient popping up a lot lately: jackfruit. A recent report from restaurant management platform Upserve that analyzed American menu items found that jackfruit saw a 131 percent increase in popularity in 2017. This tropical fruit, often grown in India and southeast Asia, has a texture that can be an excellent substitute for meat.
You may have already encountered jackfruit in your supermarket: It's green, spiky-looking, and big — its weight usually ranges from 15 to 50 pounds. It's a good source of potassium and also contains vitamins A and C. Just note that unlike tofu, jackfruit doesn't contain a lot of protein, so you'll want to serve it along protein-rich sides like black beans, lentils, and spinach.
When using jackfruit as a meat replacement, use the unripe variety (green, hard), not the ripe kind (yellow, soft). The texture when it's unripe is closer to the texture of meat, and it has more of a neutral taste that's good at absorbing flavorful sauces and spices. When jackfruit ripens, it develops a sweet taste, so ripe jackfruit works better in desserts. An unripe jackfruit should have a nice green color with black specks, says Maneet Chauhan, Chopped judge and founder and president of Morph Hospitality Group. A ripe fruit should have a sweet smell to it.
Not sure how to tackle this thing? You could slice off the top and bottom of the fruit with a knife, peel it, and cut it into pieces before cooking it. But consider yourself warned: It takes a lot of practice to get it right. "Working with the whole jackfruit is daunting even to chefs!" says Dr. Uma Naidoo, a chef, culinary instructor, and the director of nutritional and lifestyle psychiatry at Massachusetts General Hospital in Boston. "If you are new to using jackfruit, use frozen or prepackaged versions to start." If you really want to use a fresh jackfruit, Dr. Naidoo recommends visiting a southeast Asian market, where they may also be willing to cut one up for you.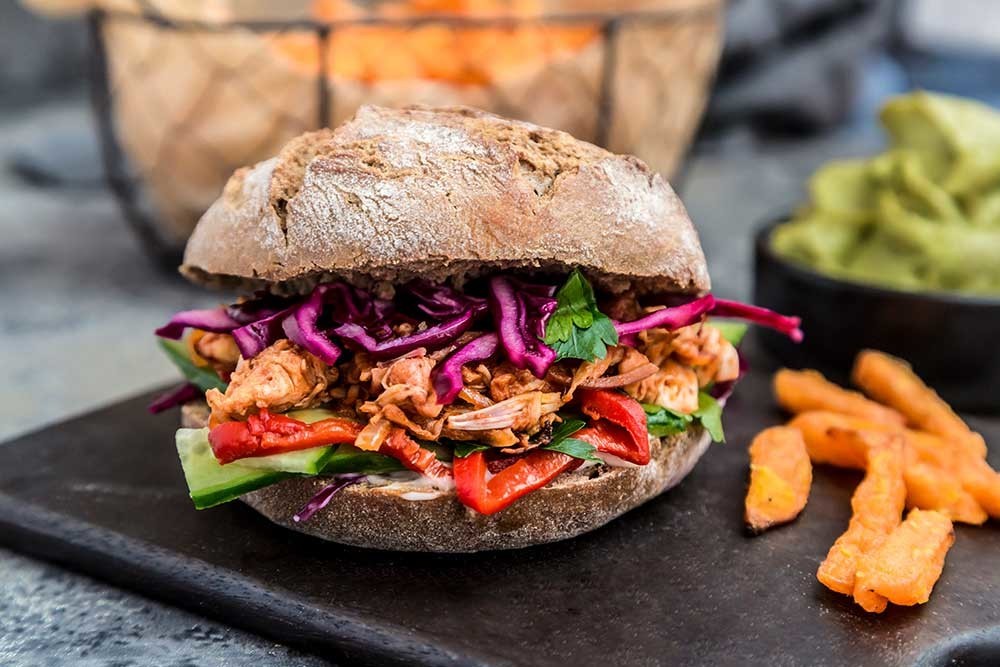 You can also find jackfruit in a can, but check the label carefully. You'll want the type that comes in water or brine, as opposed to syrup. "Rinse it well before you start preparing it so it doesn't have a metallic taste," suggest Michelle Davis and Matt Holloway, the founders of Thug Kitchen and the hosts of the podcast Forked Up.
So what can you do with it, exactly? Take a look at some of these creative ideas from culinary experts across the country.
American barbecue
"The go-to use of jackfruit here in America, especially the Midwest, is to make 'pulled pork.' This works well across all flavor profiles in the barbecue world, from the Carolinas' mustard and vinegar sauces to Kansas City's molasses- and ketchup-based 'cue. Simply toss the jackfruit with your favorite barbecue spice rub [or] sauce, and either braise in your oven or, for a more authentic flavor, your smoker, for 30 to 45 minutes." —Stewart Lane, research and development chef at Lon Lane's Inspired Occasions catering company in Kansas City, Missouri
Mexican-style meals
"I like to mix jackfruit with refried beans in Mexican-style dishes like tacos, enchiladas, burritos, or nachos. [Since] it's actually very low in fiber and calories and has very little protein, adding the beans can help you feel full." —JL Fields, director of the Colorado Springs Vegan Cooking Academy in Colorado
Italian pasta sauce
"I prepare jackfruit by sautéing finely minced garlic with diced celery, carrots, and onions in extra-virgin olive oil until softened, then I add white wine to deglaze. Next, I add smoked cherry or Roma tomatoes into the sauce, salt and pepper to taste, and then shred [jackfruit] into the sauce. Lastly, finish with fresh basil." —Larry Greenwood, executive chef at The Front Yard at The Garland in North Hollywood, California
New-traditional Cuban
"Ropa vieja is a traditional dish of braised and pulled flank steak simmered in a flavorful sauce of tomatoes, peppers, and onions. Braise the jackfruit in full-bodied vegetable stock, white onions, red and yellow peppers, canned tomatoes with garlic, bay leaves, cumin, and black pepper for two to three hours, until the jackfruit is tender and the sauce is reduced." —Stewart Lane
Asian curries
"Try it with black rice! Then top it with the curry: Heat coconut oil, and add onion, ginger, garlic, salt, and pepper. Then add bell peppers, snap peas, carrots, and jackfruit. Add curry paste, then coconut milk, water, and sugar. Simmer until everything is soft, about 15 to 20 minutes. Top the rice with the curry mix and garnish with cilantro." —Meredith Haaz, chef at The Ranch 4.0, at the Four Seasons Hotel Westlake Village in California.
An earlier version of this article included an image of a durian instead of a jackfruit. We regret the error.