Health
How Health Experts Stay Healthy When They Travel

+

Follow the advice of these pros for a healthy, happy trip.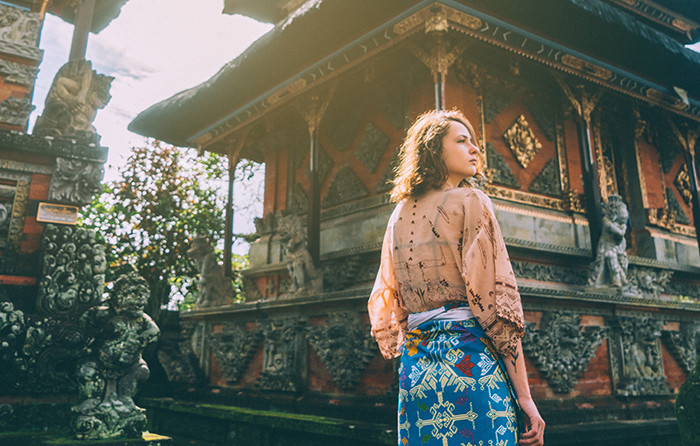 Between the work of packing and the stress of going through TSA, it's understandable that you may want to reach for food that's easy, comforting, and not the healthiest by the time you're at the airport. And once you actually get to your destination, you're officially out of your routine—meaning all bets are off. There's no way to cook healthy meals, you're miles away from your favorite Pilates studio, and the jetlag leaves you feeling tired and moody. But there are ways to set yourself for a happy, healthy trip with these tricks from the pros.
Give Yourself a Break
Counteract the effects of little to no legroom on the plane or train with a little R&R for both mind and body. "After a long, stressful day of travel, particularly across time zones, it's easy to see why many of us have such a difficult time shutting our minds off and falling asleep," says Tieraona Low Dog, MD, the chief medical officer of Well & Being Spas. "After checking in to your hotel, try to hit the sauna or steam room, if there is one, for just 20 minutes, as it's a great way to calm any anxiety post-flight." If that's not feasible, take a hot shower instead. It'll make you feel refreshed after being on the road.
Stay Active
For an on-the-go workout, few things beat a set of exercise bands. Not only are they easy to squeeze into a suitcase, but they can also be a challenging workout even for regular gym-goers. "A full-body workout could be band chest presses, rows, band biceps curls, band lateral shoulder raises, bodyweight bench dips, bodyweight lunges, and planks," says Craig Cristello, exercise physiologist at Well & Being at the Fairmont Scottsdale Princess. No bands? No problem. Do your sightseeing on foot or tour a town by bike instead of bus. "A little bit of exercise on the road will help you get back into the swing of things when you're home."
Drink Up
And we don't mean a glass of red at the hotel bar. Instead, opt for water. "It's an easy thing to forget about when you're distracted by all the fun and excitement of traveling," says Caty Nolan, a certified personal trainer and founder of Fit Positively. "Staying hydrated will help keep sickness at bay, because water carries nutrients to cells and carries waste products away." Pack your favorite water bottle to make it easier to remember.
Keep It Moving
Anyone who's ever stepped foot on a plane knows that traveling can cause digestive issues. That's why nutritionist and yoga teacher Keri Gans, RD, tweaks her diet when she's on the road. "I eat plenty of high-fiber foods whenever available, such as veggies, beans, whole grains, and fruit," she explains. "It could be as simple as starting my morning with oatmeal or eggs with whole grain toast, grabbing some fruit for dessert with lunch, and starting a dinner out with a salad or requesting a side of veggies." They're small changes but can have a big impact on how you feel.
Find other great health and wellness stories at MarthaStewart.com/Strive.