Fitness

How to create the perfect playlist for your workout
The right soundtrack can help you take your workout to the next level.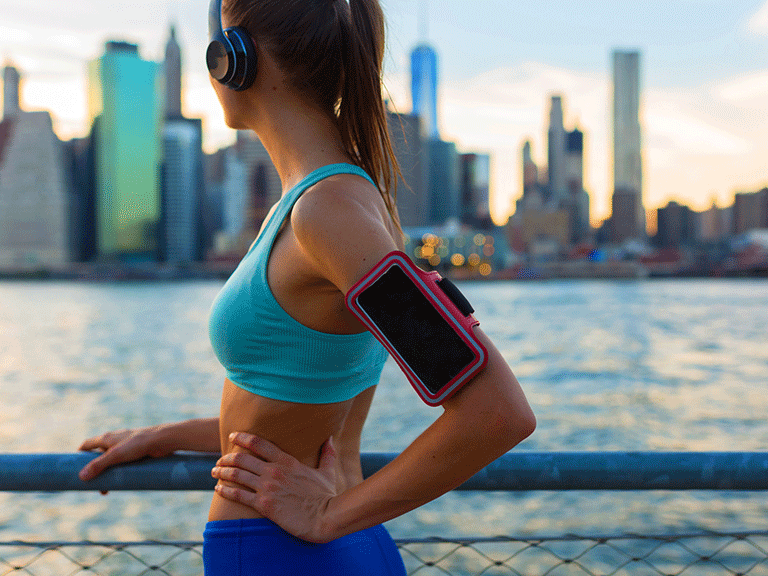 Want to make exercise feel easier and more fun with one simple move? Put on some tunes! Science proves what we've long suspected: Music helps you power through your workout in more ways than one. Research shows that it can help you work harder, put you in a better mood, feel less tired during your workout. The key is choosing the right soundtrack for your sweat session. Here's how to find the perfect music to power up your playlist, with suggestions from Dr. Costas Karageorghis, whose research focuses on music and exercise.
Getting ready: It's not just what you listen to during your workout. The songs you play as you lace up your sneakers can get you in the right frame of mind. That's because music engages the parts of your brain that control your emotions and movement. Whether fast or slow, inspirational tunes — especially if you already like them — can serve as motivation when you're huffing and puffing.
Power songs: "Roar" by Katy Perry; "Don't Stop Me Now" by Queen; "Going the Distance (Theme from Rocky)" by Bill Conti
Warm-up: Warming up primes your body for exercise. It gets your blood flowing and body temperature rising. This can fend off injury and fatigue. Listening to mid-tempo tracks during your warm-up can get you moving and shift your focus to exercise.
Power songs: "Get Lucky" by Daft Punk featuring Pharrell Williams; "Move" by Little Mix
Low-intensity exercise, such as walking or bike riding: Know how you can't stop tapping your toe to a catchy tune? Turns out, some songs can motivate you to move. Why not turn that toe tapping into a ride? The right tune can also help you keep a good pace since you tend to walk to the beat of a song. In one study, researchers found that people stepped more quickly when listening to a fast-tempo song.
Power songs: "Timber" by Pitbull featuring Kesha; "Need U 100%" by Duke Damont featuring A*M*E
High-intensity exercise, such as running and circuit training: A high-energy song helps you work harder. In one small indoor cycling study, people cycled faster and enjoyed the ride more when they listened to a faster-paced song. The music can also distract you from your burning muscles.
Power songs: "Happy" by Pharrell Williams; "Can't Hold Us" by Macklemore and Ryan Lewis featuring Ray Dalton
Strength training: Hitting the weight room? In one study, researchers studied men as they lifted weights. They found that the subjects had better performance during certain exercises, such as squat jumps, when they listened to music they chose. What's more, subjects also said the routine felt easier — and that they were in a better mood.
Power songs: "#thatPOWER" by will.i.am featuring Justin Bieber; "Love Me Again" by John Newman