Provided by Mott's
Be prepared. That camper's catchphrase applies to backyard cookouts, too. Try these clever strategies before firing up your summer cookout menu to enjoy more and stress less.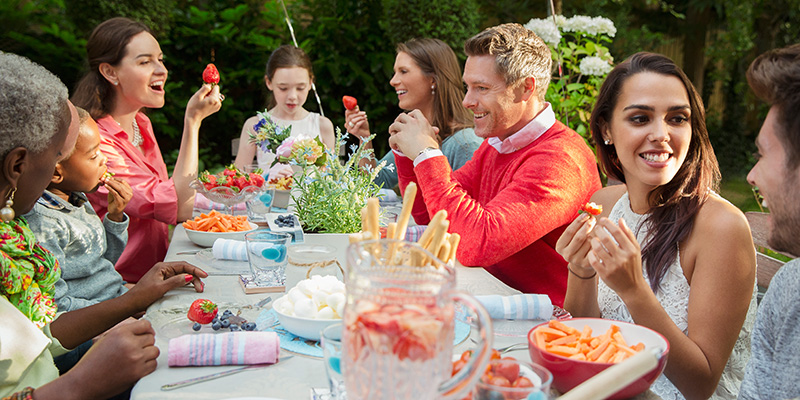 Room for Everyone
Need more dining space? Make comfy makeshift eating areas right on your lawn. Lay down a blanket for people to sit. Place food on top of crates or cloth-covered pallets—get creative! Then toss in some pillows, ottomans or cushions. Repeat as needed.
Self-Sufficient Sipping
Stock all things drink-related at one convenient self-serve station. Add cups, plenty of beverages, bottle openers, and straws. Have one portion of the station packed with Mott's 100% Apple Juice Pouches for kids.
Comfort Central
Provide outdoor supplies such as sunscreen, bug spray, hand wipes, sunglasses, and light blankets. Have them ready and waiting neatly organized in a basket or on top of a dedicated table. For an extra refreshing touch, stock a cooler with washcloths, dampened and chilled.
Snack Attack
Have a table with delicious bites, ready and waiting. Go simple, light, and utensil-free, like fruit on skewers, vegetables with dip, and grab-and-go Mott's Unsweetened Strawberry Applesauce Pouches. Just add a stack of napkins (anchored by a pretty rock if it's windy).
Creative Carryall
Instead of plates, provide inexpensive small bins to use as personal picnic baskets. They'll be a cinch to load up and carry anywhere around the yard. Guests can pile food into paper cups and trays and stack them into the basket, alongside their drinks. Have utensils rolled up into napkins and sealed with a colorful bit of washi tape to add a little flare.
Over the Top Toppings
Focus on cooking one type of food well and let guests get creative with their toppings. Hot dogs, for example, served with ketchup or mustard can be remixed with cheese sauce, crumbled bacon, hot peppers, chopped tomatoes, and anything else you can dream up. Consider a chalkboard with combinations suggestions. (Tip: Muffin tins make great topping servers.)
Find more cookout recipes here.