Cancún's Secluded Luxury Hideaway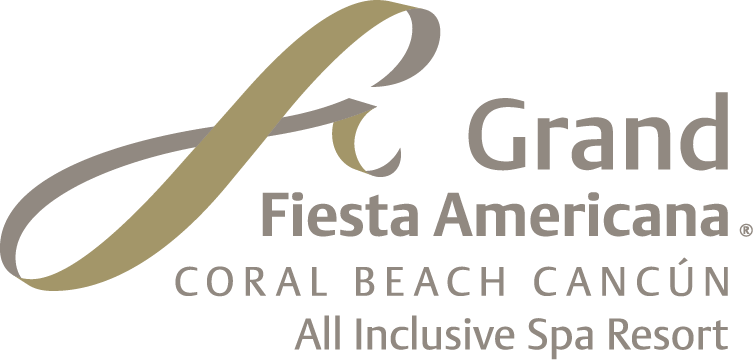 +

At Grand Fiesta Americana Coral Beach Cancún All Inclusive Spa Resort, an amazing family getaway begins with a three-day itinerary.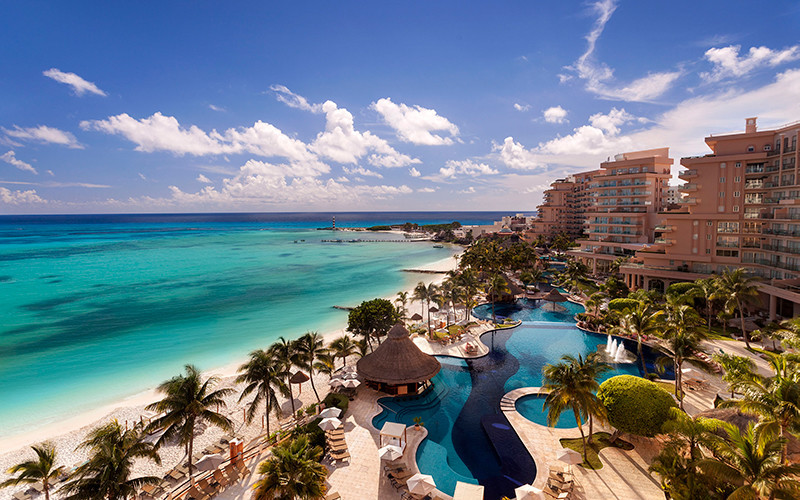 Like the fluke of a whale's tail, the Yucatán peninsula curls off southern Mexico into the crystalline Caribbean Sea. Near its very tip sits Cancún, with its brilliant white-sand beaches and balmy climate, convenient airport and amenities, and an enticing array of shopping, dining, and family attractions.
In the heart of it all is the five-star Grand Fiesta Americana Coral Beach Cancún All Inclusive Spa Resort. Offering the serenity of a tropical retreat and the gateway to unforgettable activities for both kids and parents, it welcomes family visits with true luxury, no matter how many days you stay. To get you started, here's how to spend three.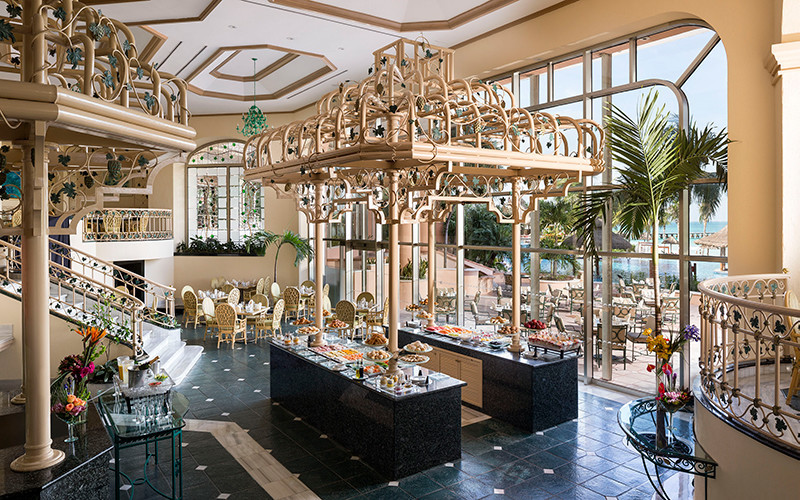 Day One
Cancún's allures are many, but the Grand Fiesta Americana Coral Beach Cancún All Inclusive Spa Resort is likely to entice you to while away your first morning on site. From ocean view suites to Infinite Club Master suites, every accommodation features a private terrace and view of the sea, shimmering blue and green like an opal. Start with breakfast at the waterfront Viña del Mar, serving everything from fresh local fruits to a lavish brunch. Steps away, an elaborate pool sprawls out like a tropical lagoon among rustling palms.
Tropical waters do in fact surround Cancún's famed Zona Hotelera, which stretches along a quarter-mile-wide barrier island shaped like the number seven. The spacious grounds of the Grand Fiesta Americana Coral Beach Cancún All Inclusive Spa Resort sit near the angle of the seven, along Cancún's most secluded beach and the protected waters of Bahía de Mujeres. It's an ideal spot to try stand-up paddleboarding (the resort offers rentals and free lessons) or to zip around the bay on a jet ski from the resort marina. The red-and-white-striped lighthouse that marks Punta Cancún makes the perfect photo backdrop. Make sure you grab lunch at beachfront Isla Contoy or al fresco Bikini Beach & Pool for fresh fruit and seafood as well as light bites and cocktails.
In the afternoon, sample the endless array of activities that await just outside the resort. Virtually everything you need lies along tree-lined Boulevard Kukulcán, which runs the length of this skinny island. There's no need to bother with a car, since efficient buses travel the boulevard all day and night. Taxis and ride-share services are also plentiful.
It's less than a half mile to Mercado Coral Negro, filled with rows of souvenir stalls and eager sellers. Bring pesos and be ready to bargain for handicrafts like colorful serapes, embroidered linens, hand-tied hammocks, and silver and onyx jewelry. Two miles farther south, canals wind among upscale shops, craft stalls, and eateries at La Isla Fashion Harbour. The Interactive Aquarium Cancún next door entertains kids with playful sea lions, touch tanks, underwater treks, and other programs.
For more Caribbean critters, sign on for a boat trip through the Nichupte Lagoon. More than 150 species of birds, along with turtles, frogs, and even crocodiles, hide out among these mangrove-fringed waters between Cancún's island and the mainland. Skip the rowdy speedboats and see more nature on a guided kayak tour. Parents can share double kayaks with younger children.
Paddling will — no doubt — work up an appetite. Return to the Grand Fiesta Americana Coral Beach Cancún All Inclusive Spa Resort for an inventive take on traditional Mexican cuisine at La Joya, serenaded by an eight-piece mariachi band, or rustic Italian cuisine at Tuscany Trattoria & Terrace.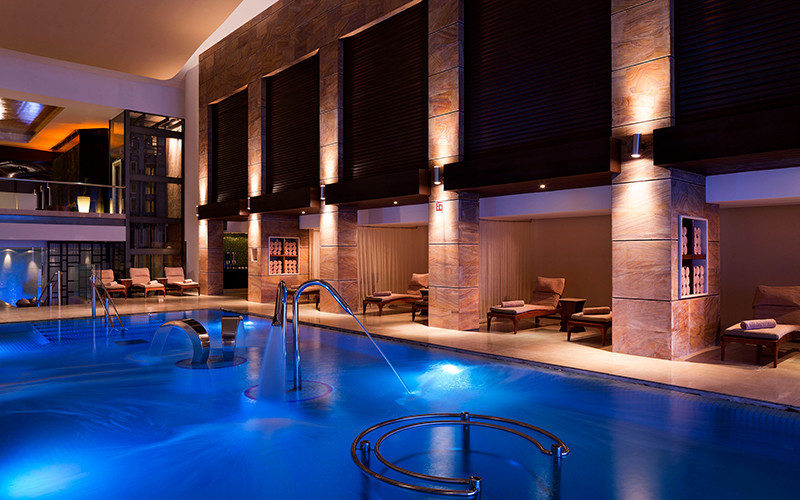 Day Two
Swing by Coral Café for coffee and pastries before catching an early ferry — or scheduling a morning snorkeling tour — to Isla Mujeres, a sliver of land eight miles from Cancún. Although it gets its share of day-trippers, Isla Mujeres still maintains the ambiance of its sleepy fishing village past. At El Garrafón Park, snorkelers can swim out to a nearby reef, where tropical fish dart and swirl around the fragile corals. Its shallow and typically calm waters make El Garrafón a good spot to introduce children to the wonders of the undersea world. South of Isla Mujeres, the vast Mesoamerican Reef is popular for sportfishing and scuba diving.
After a morning in the sun, rejuvenate with an afternoon in the Grand Fiesta's Gem Spa. Signature spa treatments as well as a fitness center and salon are among the many indulgences available in the 40,000-square-foot spa. Consider the hydrotherapy circuit, which guides users through aromatherapy steam, wood sauna, polar plunge, clay steam, ice room, and more before a final relaxation in the "pool of sensations."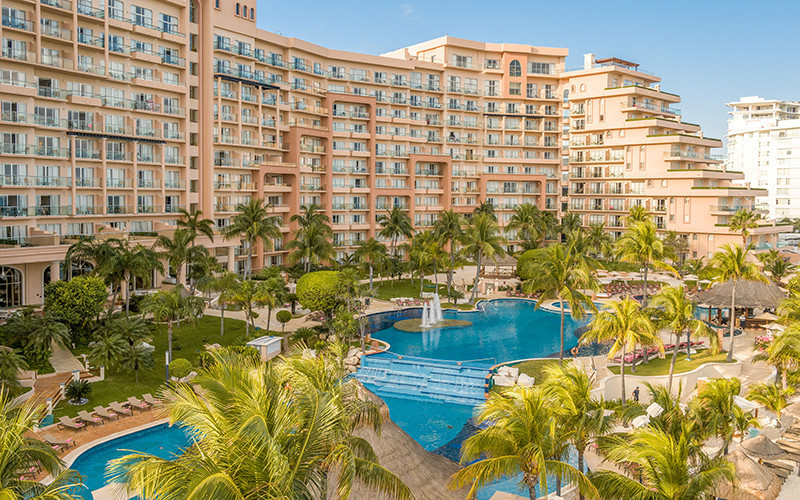 Children aged 3 to 12 get their own happy escape in the resort's Coral KidZ Club. The $2 million playground includes a Mayan-inspired spray park and wading pools, a high-tech theater and dance floor, and even kids' cooking classes led by the resort's executive chef.
With nine fine dining options at Grand Fiesta Americana Coral Beach Cancún, why not stay in for dinner? Depending on your mood, finish off the day with a consummate French Mediterranean dining experience at Le Basilic, or go all out with a vivid culinary journey through Mexico at The Table, where a nine-course dinner, music, and narration immerse you in the nation's history. Afterward, put the kids to bed and stop by the resort's Havanna Club, Lobby Bar, or the Tequila Bar at La Joya for a nightcap and some dancing or camaraderie — or just focus on the delicious margaritas.
Day Three
The Maya long ruled over the Yucatán. While the culture is very much alive today, it is the magnificent ancient Mayan cities that continue to fascinate visitors. The sleek Museo Maya de Cancún offers insights into the Mayans' remarkable advancements in art, architecture, language, and science that date back 2,500 years. A 10-minute walk leads through a wooded preserve to San Miguelito, where archeologists have excavated ruins of a stone temple and living quarters. To the delight of kids, iguanas are often seen sunning along the path.
For a look at Mayan civilization on a grander scale, the hotel concierge can help arrange a day trip to the seaside fortress of Tulum, 80 miles south. A 40-foot-high limestone castle perches atop a rocky cliff, protecting the walled city from invasion by land or sea. Visitors can stroll among more than 60 buildings that offer glimpses of what was a prosperous trading center nearly 1,000 years ago.
Impressive as it is, Tulum is just a sampling of the great Mayan cities in the Yucatán. Cobá, and even the wondrous Chichén Itzá, are within reach when you stay at the Grand Fiesta — all the more reason to return to this place that is surely blessed by the gods.
Family fun, sun-soaked beaches, and remarkable cultural activities await. Start planning your trip here.