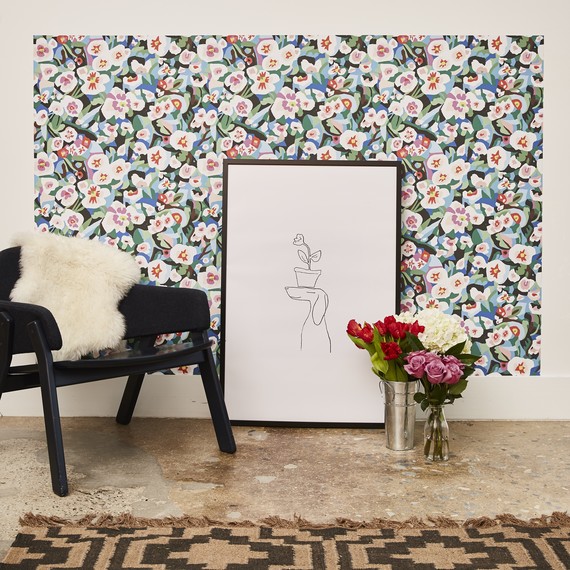 When Elizabeth Rees stared at the plain walls of her Brooklyn apartment five years ago, she knew they needed sprucing up. Paint wasn't an option (she'd have to change it back at the end of her lease). Wallpaper presented a similar commitment issue -- not to mention the high cost and the challenges of sponge-and-glue installation. So Rees created Chasing Paper, an affordable (and removable!) wallpaper brand with trendy colors and patterns. Now, Rees is helping with our wall conundrums once again. On November 3, she launched Print Shop, a line of fun and hip art prints.
[LEARN: Decorating Rules like How High Your Should Hang Art]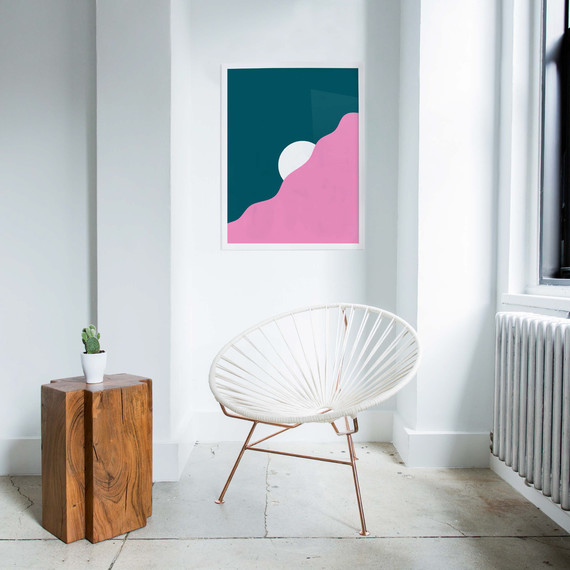 On expanding into the broader wall-decor space, Rees cites the price of quality prints as a motivating factor. "In my buying experience," she says, "I saw two worlds: the high-end places like Minted and 20x200, which felt cost-prohibitive, and on the other side of the spectrum, the huge flood of people selling prints on Etsy. Those are thin, often made with something one step up from your average printer paper." 
Rees's line fills the gap in between offering a selection of 25 prints designed by artists like Danielle Kroll and Emma Darvick that start at $45 and are produced on archival matte paper ("I hate anything shiny!" she says).
[CHECK OUT: These Simple Wall Art Ideas]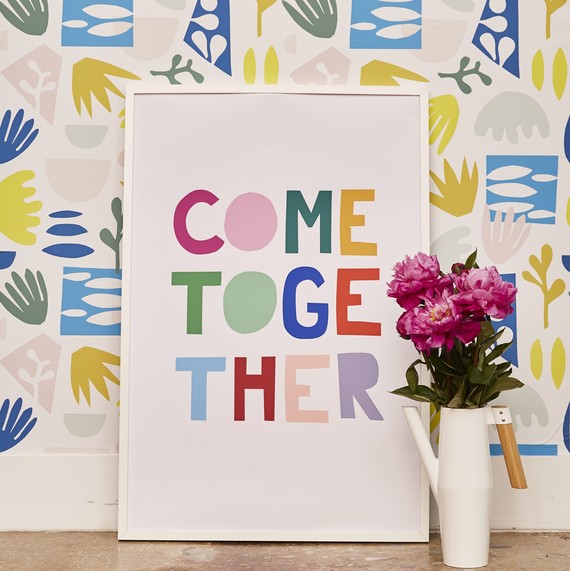 It's something "of the moment and contemporary," explains Rees about the vibe of the premiere collection. Prints channel positivity both through text ("Tell Me Something Good") and imagery (peace signs, waves, moons) in an attempt to uplift in today's tense climate.
The colors of each print bleed out to the edges of the paper, a purposeful move by Rees, who wants buyers to feel just as comfortable putting the works directly on their walls as framing them. That said, Rees partnered with Creative Enterprises, a framing company near Chasing Paper's Milwaukee production facility, to offer frame options in black and white (and a natural frame color is coming soon). 
And the size of each print -- most are 24-by-36-inches -- makes them a good way for people to "dip their toes into what's trending at the moment," says Rees. Think: lots of blush and cobalt blue. "Maybe you don't want to buy a blush couch for $4000," she adds, "so a blush print offers a nod to what's in right now, while also being something you can switch out depending on how you style a room."