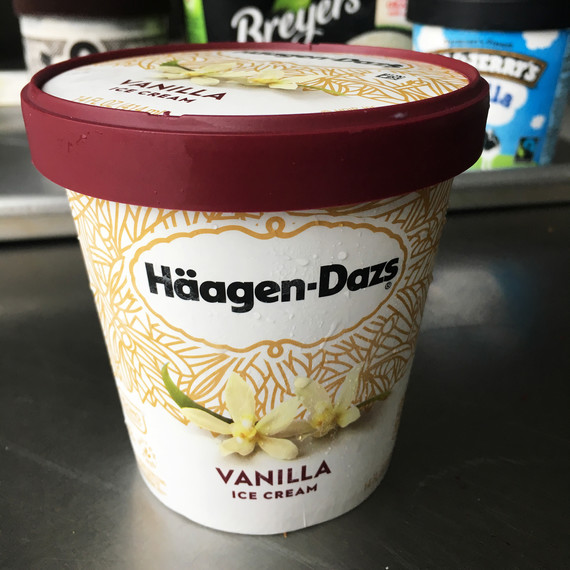 Find out what's been happening in the world of 42 Burners, aka our test kitchen, with our weekly series.
In honor of National Ice Cream month, we decided to conduct a sweet little test—which brand of store-bought vanilla ice cream tastes the best? Contrary to popular belief, our food editors enjoy store-bought ice cream just as much as homemade. They always considered Häagen-Dazs to be the best (it's the brand they use for photo shoots!) but we wanted to know if there was something even better out there.
To keep things fair, they didn't know which brands of ice cream they were sampling. A few scoops of each brand were placed in the same unmarked glass bowls and only after the tasting was complete were the brands revealed. So, without further ado, the winner is…Häagen-Dazs! Its not-too-sweet vanilla flavor, smooth, creamy texture, and short ingredients list were all noted as reasons why this store-bought vanilla ice cream continues to be our team's favorite.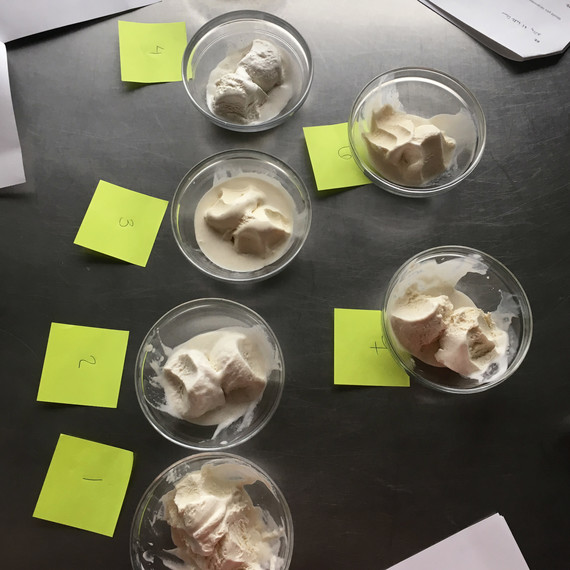 After two unsuccessful samples of other brands ("chalky," "too airy," and "too chemically" were all phrases used to describe these less-than-ideal picks), the test kitchen team was pleasantly surprised by the third offering (hint: it was Ben and Jerry's). Editor-at-Large Shira Bocar and Test Kitchen Manager Kavita Thirupuvanam noted that it was more yellow than the first two samples and Victoria Spencer, senior digital food editor, pointed out that it appeared to be a smoother, creamier scoop than the first two. All agreed that it was sweet with a genuine vanilla flavor. Success!
After the reveal, Editorial Director of Food Sarah Carey said she had thought the Ben and Jerry's vanilla would be too sweet because the brand is known for its ice creams with add-ins like chocolate brownie bites, chunks of cinnamon rolls, and cheesecake, but she was pleased to discover that their vanilla was not overdone.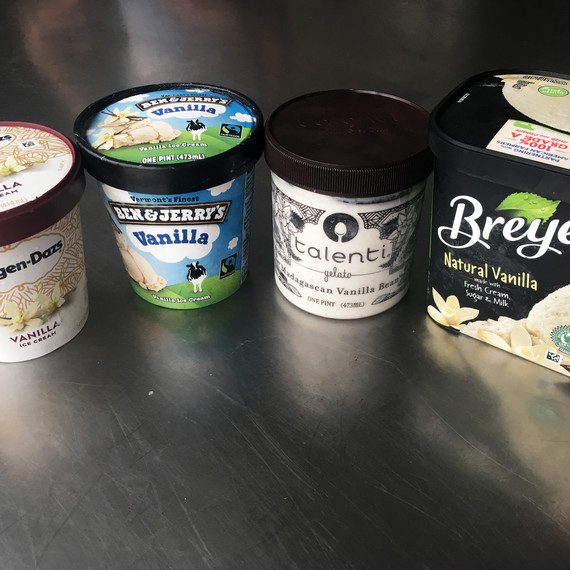 Shira was sure what brand #4 was, and it turned out to be a taste of nostalgia for the entire group. "This is Breyer's," she exclaimed. "I haven't had this in years." Both Shira and Sarah noted that Breyer's was the brand of ice cream they grew up with.
Another success was Talenti Madagascan Vanilla Bean Gelato, which was something of a curveball, since gelato and ice cream are not technically the same product. "This is weird looking," said a skeptical Sarah. Shira liked its "nice vanilla flavor," and Kavita appreciated its "silkier texture." Victoria noted it was much sweeter than the previous four brands, but was on the fence as to whether or not that was a good thing. "It's good to know Talenti is passable," said Shira.
After a few more scoops of other brands, there was a clear winner. Though other ice creams were labeled as organic and small batch, none measured up (and, in a few cases, were outright failures) to Häagen-Dazs. In the end, a $5 pint of this classic vanilla ice cream did the trick for our food editors.