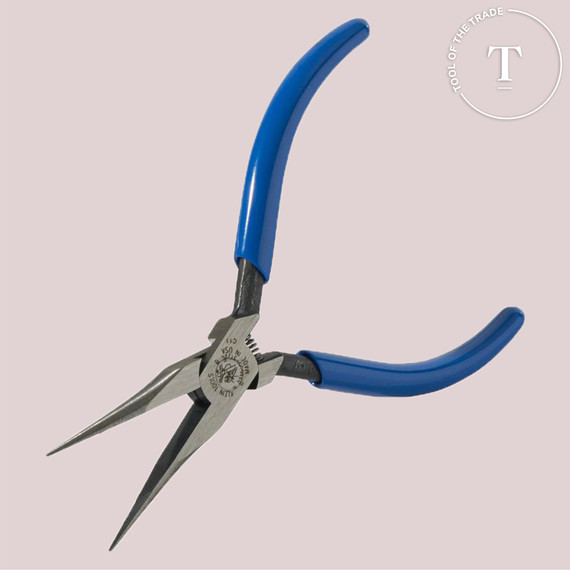 Whether you're a crafter or a home cook, it often feels like there are so many tools you can purchase to help you get a job done. Which ones are really worth investing in? Our editors are here to help. From everyday essentials to more obscure must-haves that will take your practice to the next level, we're breaking it all down. Each week Tool of the Trade will highlight one must-have crafting or cooking item you need to know about.
Odds are, you have more than one set of pliers in your toolbox at home: flat pliers, grommet pliers, eyelet pliers, or some combination of them all. But there's one in particular that can be used for other purposes in a pinch: Needle-nose pliers, a tool you'll find in Martha's own craft room, might just be the crafting essential you're missing.
What Is It?
A set of needle-nose pliers is the must-have tool for any task that involves how to bend, shape, and cut wire. They have distinct characteristics that set them apart from the other kinds of pliers: They come equipped with curved handles that provide both comfort and control, while a smart, spring-action design helps to reduce fatigue in-hand. Its signature feature—the needle-nose tip—with serrated teeth allows you extend your arm's reach into hard-to-access spaces for a more precise job. Some long-reach varieties (at 13 inches in length) feature a dual-pivot design that provides increased jaw opening in tight spaces compared to regular single pivot long reach pliers. 
How Is It Used?
Needle-nose pliers are used to manipulate wire using the textured teeth. When working with this tool, the handles should be gripped tightly yet apply gentle force. They are not sturdy enough to cut large, hardened wires, and they are not to be used on live electrical wires. Needle-nose pliers are good for reaching into tight spots where regular pliers are unwieldy. Most crafters use them for elaborate projects with small objects: jewelry-making tasks such as picking up and stringing beads, setting stones and attaching small clasps. For example, in our tassel earrings project: needle-nose pliers can be used to slip fishhook-shaped ear wires through tassels and insert the top loops of the tassels inside, pinch the wire closed, and result in a pair of stately earrings.
Why We Love It
They are great for retrieving parts and other applications in hard to reach areas. Over the years, our editors have put it to good use in a number of projects: bejeweled Christmas ornaments, beaded garlands, giftable jewelry, and even Martha's Fairy GrandMartha Halloween costume. (To accessorize her magical evening look, we crafted her tiara from a wire comb headband by bending the pointed ends of the comb's teeth with needle-nose pliers and gluing the top beads with jewelry epoxy. Similar embellishments were made to a wand and matching jewelry.) It comes handy in needlework projects—with sewing leather, in which the needle can easily get stuck, needle-nose pliers can be used to help pull the needle through a thick layer of material and complete the stitch. And in household tasks, needle-nose pliers can assist in extracting a blockage and unclog your drains or craft a planter for your houseplant.
Our Editor's Pick
We like Klein's Long Needle-Nose Extra Slim Pliers. At five inches, this pair of pliers are just the right size for most home projects and a good choice for beginners. Its long, narrow nose and slim hinge are forged of the finest U.S. steel alloy for maximum durability in even the most delicate tasks. The finely knurled jaws will grip thin wire without damaging it.