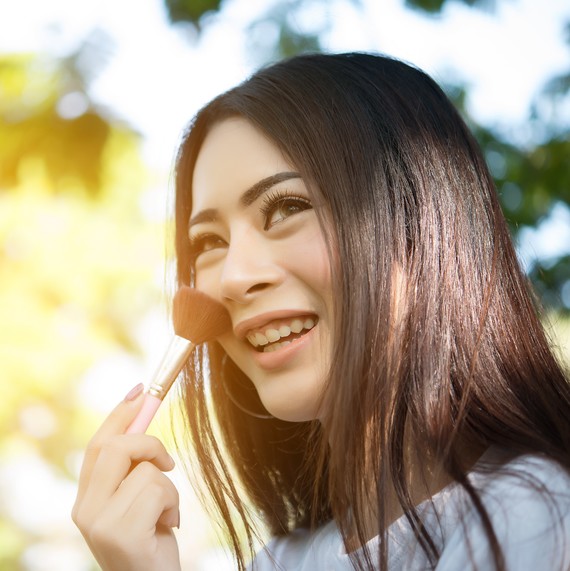 We can't overstate how important year-round sunscreen application is for every single person, no matter their skin tone, where they live, or how much time they spend in the sun each day. Not only is it the number one anti-ager, but skin cancer is a real and prevalent risk. If you're already an SPF disciple, bravo, but there's always room to improve and learn a few things about sun protection. One such example? Whether or not the product you're using daily is providing enough protection. For many people, adding another step to their daily skincare routine is a tough ask, so using multitasking makeup products that contain SPF often seems like an easy way to knock out two steps at once. Is this effective, though? We asked a few dermatologists their opinions on whether or not the levels of SPF included in some of our favorite bb creams, tinted moisturizers, and pressed powders actually protect against sun damage. 
Unfortunately, the short answer is no. "While SPF in makeup does add some level of protection, it's just not enough to properly shield skin from sun damage and skin cancer. Makeup typically contains physical sunscreen blockers, especially with today's trend towards mineral makeup, and yes, it does help, but I still prefer a bona fide, legitimate, straight-on sunscreen product under the makeup," says Dr. Kenneth Mark, a board-certified cosmetic dermatologist and skin cancer expert. Here's more on why. 
Consider the Season
Sunscreen is top of mind when the sun is gloriously shining, but it doesn't mean that you should skimp when it's cloudy or cold. If you're into outdoor winter activities like skiing, slather on the sunscreen like you would if you were spending the day at the beach. The snow reflects the sun in a way that can be just as damaging as it is when it's beaming down on a hot summer day. "In the hot months you should have additional SPF coverage," says dermatologist Dr. Shari Sperling.
Always Level Up
Whether you're going for a sunscreen-infused makeup product or using straight SPF, your baseline should be SPF 30 or more. "To clarify, if you have makeup with SPF 15 and SPF 15 sunscreen it's not equivalent to wearing an SPF 30 sunscreen," says Dr. Sperling. Layering isn't going to give you added protection.
Stack Strategically
No matter the format—whether liquid foundation or bb cream—Dr. Sperling says that SPF is SPF. You won't get more protection from one over the other. The difference comes down to how you apply it. Dr. Mark says that because everyone has different personal skills and preferences, if one person can uniformly apply sunscreen to their face, then in theory they'd be fine using a level 30, but someone else not so skilled would likely need a 50. Dr. Sperling suggests first applying your moisturizer, then SPF, followed by your makeup. "Make sure to use enough of the product (SPF). Apply generously and liberally. Fingers will be more sufficient, as a beauty blender would absorb a lot of the product," he says. You can use an SPF finishing powder to touch up later in the day without messing up your makeup—but remember it's not a substitute for the full coverage you should be applying at the start of the day. "You should reapply sunscreen every two hours, and even more frequently if exposure to water and sweating occurs. The proper amount is one ounce for the entire body," says Dr. Mark.