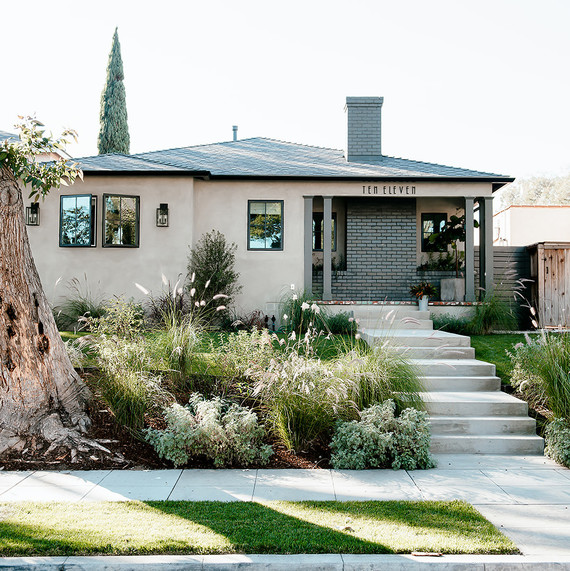 There's a big difference between renovating a home and updating it. The former involves a more dramatic execution—knocking down walls or retiling an entire bathroom. Updating is making cosmetic changes such as painting a kitchen or replacing a light fixture. Renovating is, obviously, much more expensive and time-consuming than updating, and that's why many sellers resist it when they're listing their home. According to one broker, renovating helps sell houses. "Buyers may say, 'I'm willing to do some work as long as it's not too much,' but the truth is, when they actually walk in the front door, the ready-to-go house wins hands down," says Robin Kencel, an associate real estate broker at Compass Real Estate in Greenwich, Connecticut. What makes a move-in-ready house or apartment so attractive to potential buyers comes down to this: Someone has already done the work, which means the buyer won't have to.
Other real-estate pros think renovating is overrated. Annie Gruenberger, an associate broker at Warburg Realty in New York City, advises her clients to put more emphasis—and dollars—on creating a welcoming environment. "What's most important when listing your home is that it's clean, uncluttered, well-lit, and neutral," she says. If you're on the fence about whether to renovate, take the advice of Robert Elson, a salesperson at Warburg: "Using a very critical eye, make believe you're looking at your house or apartment for the first time. Ask yourself, 'If I were looking at this home, would I want to move in as is, or would I want to change anything?'" If your answer is the latter, consider making changes to create an updated, attractive home that has good flow. But before making any major renovations, ask your real-estate pro if the money you plan to spend can be recouped in the selling price, says Elson. If the answer is no, do not do the work. Here are some other tips to keep in mind should you be thinking about renovations.

Keeping Everything Neutral Will Attract More Buyers
"Any work or updating you do should be as generic as possible," says Elson. "You want to appeal to the widest swath of potential buyers as possible." Flowered wallpaper in the bedrooms or painting the bathrooms a funky color might turn people off.
New Kitchens and Bathrooms Make the Biggest Impact
If you're going to put your money into renovating, the kitchen and bathroom are the rooms you'll want to hit. "They typically pay back at least dollar for dollar," says Kencel. But that's assuming that your changes resonate with the buyer's taste. Your brand-new kitchen will appeal to the most buyers if it has a crowd-pleasing look such as a subway-tile backsplash, white cabinets, and a neutral wall color. Same goes for the bathroom: This isn't the time to introduce orange shower tiles.
Make Sure the Infrastructure Is in Good Place
"Buyers don't want to spend money replacing mechanical systems right off the bat," says Kencel, "nor do they want to take on deferred maintenance work," such as replacing outdated electrical outlets throughout the house or getting a leaky roof repaired. "That kind of neglect sets off alarm bells in a buyer's mind." Get the infrastructure fixed before you list.
The Little Things Count
Gruenberger thinks about the details that influence the look of a house on the market without renovating—wood floors that are cleaned and buffed, new area rugs to replace those that are too colorful or dated, lamps that offer good lighting, replacements for faded window treatments, and updated knobs on kitchen and bathroom cabinets. 
Carpeting Should Be Updated
There's nothing worse than worn or out-of-style carpeting to set the wrong tone, says Kencel. "Consider either removing the carpeting and, if there is hardwood underneath, refinishing the floors or putting down new carpeting that's neutral and modern."