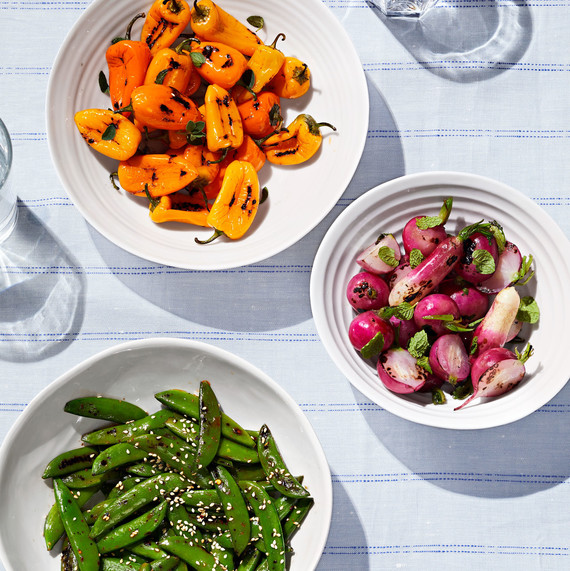 Shishito peppers aren't the only vegetables that bust a delicious move when charred and seasoned. Radishes, snap peas, and sweet baby peppers also take on focused flavor and a snappy, tender crunch when you dry-fry them. Dry-frying is a method of cooking meat or vegetables in a skillet or wok without batter. The process draws out all the moisture from whatever you're cooking, so the final result is something that's browned and super crispy on the outside and tender on the inside. To do so, heat a heavy-bottomed skillet on high for three minutes, add the vegetables, and cook for a few more. Toss them in a bowl with fresh herbs and spices, and serve warm or at room temperature. Voilà!
Now that you're armed with a new technique, use the following three new recipes to feed your friends with this summer.
Tuscan Peppers
These sweet baby peppers come in a variety of eye-catching shades including red, orange, and yellow. Their flavor is milder and, you guessed it, sweeter than bell peppers and they're the perfect party popper. Dry-fry one-pound sweet baby peppers for six to eight minutes. Toss with three tablespoons sherry vinegar, one tablespoon extra-virgin olive oil, one tablespoon chopped fresh oregano, and flaky sea salt. This recipe serves four to six people as an appetizer.
Mint-Lime Radishes
Lime and mint share more than just a vibrant green color. Their complementary flavors are refreshing when paired together in a cocktail, dessert, or appetizer. Here, we're tossing the two with bright pink radishes, which have a slightly bitter bite that gets offset by the summery ingredients. To make this tasty bite at home, trim and halve one pound of radishes then dry fry for five to six minutes. Toss with ¼ cup chopped fresh mint leaves, ½ teaspoon grated lime zest, one tablespoon fresh lime juice, one tablespoon extra-virgin olive oil, and flaky sea salt. You'll be able to serve four to six people this dish as an appetizer.
Chili-Sesame Snap Peas
Snap peas are in their prime for just a little while longer. Try them dry fried with this riff—spicy chili oil, toasted sesame seeds, and flaky sea salt. The combination of sweet peas with the heat from chili oil really works. Don't be surprised when your guests polish off a batch in the blink of an eye. Trim 12 ounces of sugar snap peas and dry fry for four to five minutes. Toss with one teaspoon chili oil, one tablespoon toasted sesame seeds, and flaky sea salt. This recipes serves four to six people as an appetizer.