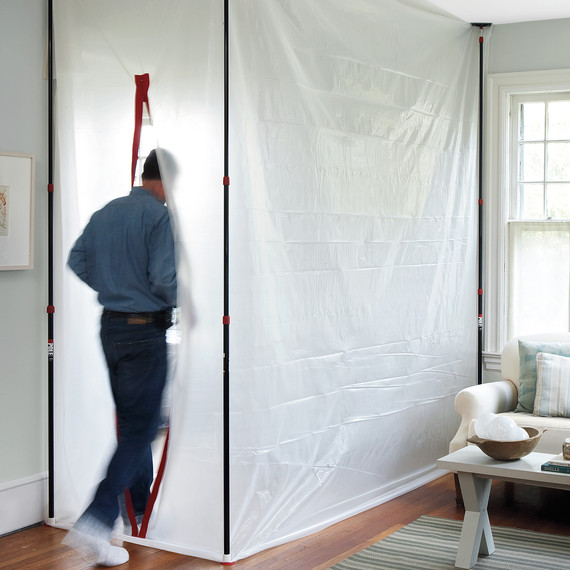 Renovating your home is stressful, and not being able to feed your family as you usually do when your kitchen is being remodeled only adds an additional source of stress to your life. Delivery pizza is fun, but not every night. Depending on your circumstances, you can still make easy, delicious meals while you wait for your dream kitchen to be finished. You might not have a stove but there are still ways to serve a homemade meal. Here we share tips for setting up a temporary kitchen, favorite recipes for makeshift cooking, helpful tools for prepping food, and a few smart shopping ideas.
Set Up a Makeshift Kitchen
Plan ahead and designate a spot in your house to setup a temporary kitchen. Figure out where you will be able to wash and dry dishes and use a table or other surface for prep work. Find an accessible area to plug in the refrigerator and microwave, if you have them. Depending on the length of your kitchen renovation and your budget, it may be worth buying a mini fridge to store the basics if you can't move your existing refrigerator. If you plan to use countertop appliances (see below), make sure there are sufficient electrical outlets.
Gather Tools
Think about the items you use most frequently in the kitchen and set them aside. This generally includes knives and other essential utensils, a small selection of dinnerware, and cutlery. Designate a spot to keep them in or organize your pared down kitchen tool kit in plastic bins, so you can see what is in each box without going through it. Basic items you might want are a cutting board, chef's knife, serrated knife, paring knife, peeler, can opener, whisk, large mixing bowl, microplane, wooden spoon, ladle, and spatula. If sink space is limited, buying disposable dinnerware is an option. While not ideal for the environment, there are more sustainable options such as ones made from bamboo or palm leaves.
Use Countertop Appliances
A few countertop appliances can make all the difference. Consider the appliances you already own or think about purchasing one (or two) new ones—you might find you want to keep them around when the kitchen renovation is finished. Embrace the Instant Pot—assuming you haven't already. There is a lot you can cook in one pot and it's super quick, plus you can brown right in the Instant Pot for added flavor and ease. An alternative is a slow cooker, but that requires advance planning; it can take anywhere from two to eight hours to cook a meal. You can also use that panini maker you got a couple of years ago. It will transform any sandwich into a crispy and cheesy hot meal.
Without a stove, you can still cook favorite skillet recipes and pastas on an induction burner. Depending on the length of your renovation, it might be worth buying one. If you're considering going this route, set aside at least one pot and one skillet before the renovation and, most importantly, check that the pans you select are magnetic—only magnetic pans work on induction burners. Microwaves and toaster ovens are great for heating up leftovers and defrosting frozen foods. Other tools that are nice to have, but not essential, are a blender (great for smoothies and puréed cold soups, like gazpacho) and an electric tea kettle (perfect for tea, pour over coffee, and boiling water fast).
Cook in Advance
Stock the freezer prior to the renovation: Soups, stews, lasagna, cooked grains, and many other meals freeze well. Store them in small portions so they defrost fast and require just an appliance for warming them. 
Shop Smart
Last, but not least, think about how you can shop smarter to minimize prep and cooking. Buy pre-washed greens and vegetables, when possible. Some vegetables even come pre-prepped like shaved Brussels sprouts, butternut squash, and peeled garlic. Purchase pre-cooked items when it won't sacrifice flavor. Some of our favorites are cooked vacuum-packed beets and lentils that are sold in the produce section; frozen organic vegetables; canned beans; and store-bought sauces and dips, like pesto and hummus. Even easier, try our no cook recipes.