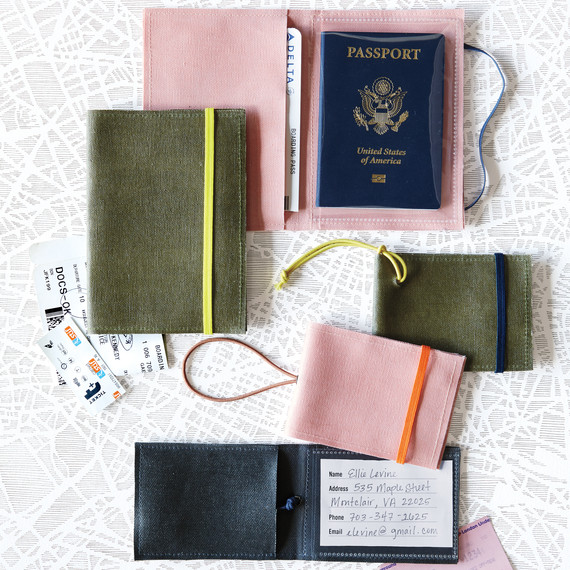 When you're traveling abroad, it only feels natural to pack as much as you can. You write list after list to make sure you don't forget anything even at the risk of overpacking your suitcase. After all, how can having more of the essentials hurt? Actually, it can. When you travel (especially internationally), there are a few documents that are best left at home where they'll be safe. Some documents are simply unnecessary to bring, while others can pose a risk you don't want to think about when on vacation. Instead of worrying, leave anything that's not absolutely necessary behind.
Social Security Card
Whether you're traveling domestically or internationally, this one is always best left at home. Theft while on vacation is common, so you don't want to put yourself at an even greater risk of identity fraud by bringing your social security card along with you. Jolene Huitron, of Huitron Travel Group, says, "I get asked by clients all the time if they need to bring their social security card with them. The answer is a resounding no. There is no reason to bring your social security card on vacation. It can not identify you and will do nothing for you in another country."
Birth Certificate
Bringing your birth certificate with you on travels creates another potential risk for identity theft. "Never travel with your birth certificate," reiterates Tom Wills, travel advisor at Soprano Villas. "You'll find that it won't be sufficient identification for foreign travel and if it's lost or stolen, it could be used for identity fraud. It is also a valuable document in your native country which may be difficult to replace, unlike a passport." However, there are rare exceptions when you may be asked to take a birth certificate with you on travels, and it's usually asked of for children. Huitron offers a suggestion for instances like this and says, "The reason they ask for it for children is because most do not have photo identification. However, I highly recommend parents get photo ID cards for their kids, especially if you will be traveling. In Florida, a child as young as five can get a state ID card."
Copies of Your Passport or Visa
Having a backup just in case you lose your passport or visa while overseas is smart, but only if you're smart about the method of backup. A physical copy can be stolen and a digital copy stored on your phone can be hacked. "My mobile phone was recently stolen in Peru and they were able to hack through the password protection and access everything in my phone, including photos of my passport and credit cards," Jacquie Whitt, owner of Adios Adventure Travel, recalls. So, if not a physical copy or a digital copy on your phone, what's the best way to travel with a backup? "I now recommend that people avoid storing sensitive info on their phones," Whitt says. "The ultimate protection is to send copies of your documents by email to someone you trust. Or store them in an email account that is not easily available on your phone."
Driver's License
If you're traveling domestically, then a driver's license is perfectly fine to take with you. However, if you're traveling overseas, taking your driver's license with you is most likely unnecessary. Peggy Goldman, President & Founder of Friendly Planet Travel, explains, "You will only need this document for travel within the United States or in the event you intend to rent a car where your U.S. license is accepted. If you're traveling internationally, you'll be carrying your passport for identification, so the driver's license is safer left at home."
All of Your Credit Cards
While credit cards aren't documents, per se, it's important to note that you should avoid traveling with cards directly linked to your mortgage, pension fund, savings, or other significant accounts. "Take two—preferably two that don't charge foreign transaction fees if you're traveling abroad," Goldman advises. "You may be tempted to take more cards so you can happily shop without worrying but if you should lose your wallet, or worse, it'll be much easier to deal with two cards than with a whole bunch. Having two cards is especially important if one is an AMEX. Not every establishment takes this card, so it's good to have an alternative should you need it."