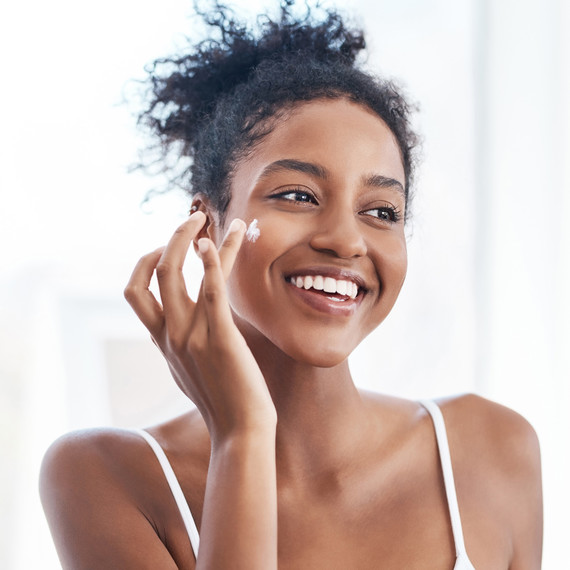 How much time do you have to get ready in the morning? Are you one of those people who snoozes the alarm until the last possible second, or do you relish being able to take time in the morning to eat breakfast, have a leisurely routine, and start your day in a relaxing way? When establishing your morning skincare routine, this is the first question you need to answer, says Dr. Francesca Fusco, MD, a dermatologist at Wexler Dermatology in New York City.
If you're someone who is low-maintenance or just doesn't have much time before heading out the door each day, your barebones morning routine should consist of an effective cleanser, like Tatcha One Step Pure Camellia Cleansing Oil, and a moisturizer with sunscreen, like Olay Complete Daily Defense All Day Moisturizer with SPF 30. No matter how much time you have or don't have, daily sun protection is a must to prevent aging, discoloration, and skin cancer. (If you were ever wondering, the only difference between a day cream and a night cream is that day creams might contain SPF and are usually lighter in texture. Night creams usually have thicker consistencies, and they also might have more active ingredients that are too sensitive to use in the morning when you're out in the sun.)
If you fall into the second camp—that's someone who has more time in the morning and is able to commit to a more involved routine—cleanse and then apply a toner with a cotton ball to balance the pH of your skin. If you have oily skin, try Biologique Recherche Lotion P50 1970. Dry or sensitive skin? Try a gentler version, such as Biologique Recherche Lotion P50 W. Fusco recommends gently pressing it into your face with a cotton ball instead of rubbing it so your complexion doesn't get irritated. Next should come a vitamin C serum, as this products helps prevent ultraviolet damage. We like Dermalogica BioLumin-C Vitamin C Serum. Keep a depuffing eye cream on hand, too. (Origins GinZing Refreshing Eye Cream has saved us in the mornings many times.) Then, Fusco says, use a moisturizer that targets any specific skincare issue you're trying to solve, whether acne, oil, redness, or sensitivity. (Murad Skin Perfecting Lotion, Biossance Squalane + Omega Repair Cream and Tatcha The Indigo Cream Soothing Skin Protectant are a few great options). Sunscreen, like Clinique Broad Spectrum SPF 50 Mineral Sunscreen, should be the last step.
One last thing: It's almost equally important to note what you shouldn't use in the morning as it is to highlight what you should use. "Retinol and very strong glycolic acids in the form of peels or lotions are best used at night, because they may leave the skin a bit sensitive, and more at risk for sun damage," Fusco says. "And moisturizing masks are also best used at night because you'll have a whole night's sleep during which the skin can absorb the moisturizer."