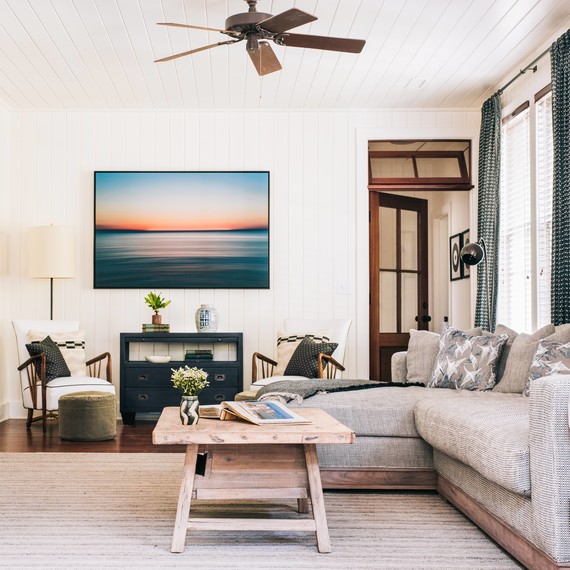 Keeping an entertainment zone organized at home is never easy. Along with figuring out how to stylishly display your large electronic devices, you have all kinds of media-related miscellany to corral and conceal from plain sight, too. "A big obstacle to keeping an entertainment area organized is that you want things like remote controls, speakers, and cable boxes in places that are accessible, but not necessarily obvious," says Nicole Anzia, professional organizer and founder of Neatnik. "Buy furniture that can neatly accommodate various electronic components and all of their cords, and buy a bin or basket to store (and keep track of) your remote controls." Of course, once you have all of your media storage situated, you then run the risk of accidentally stockpiling all of your obsolete electronics. "Don't let old cables, cords, and other out-of-date technology pile up," Anzia says. "If you buy an updated device, get red of the old one. It's easier than ever to recycle electronics and keep your entertainment area up-to-date."
And let's not forget the dreaded task of hiding all your unsightly cords, cables, and electronic wires from plain view. "The best way to conceal cords, whether from a wall-mounted TV or those running along the floor, is a simple cord cover," Anzia says. "They're available at most major hardware stores and online, and since you're essentially enclosing the cords in a thin sheath which can either be attached to the wall or that can run adjacent to your baseboard—they're efficient and easy-to-use."
Looking for more ideas on how to keep your entertainment area organized at home? We asked six different interior designers for their advice on streamlining media zones, and here's what they had to say.
Consider built-ins. 
"Storage for electronics and gear can be chic if it's neatly tucked away inside beautiful built-ins," says designer Melissa Warner-Rothblum of Massucco Warner Miller. "The interior of the cabinetry can be fitted with small compartments to store your necessities in an organized and efficient way, so it feels like there's always a place for everything. You can add more personality by including a built-in bench and sconces for an extra glow."
Make it blend in with surroundings.
"I like hiding the media equipment. I don't mind a TV in plain sight but I prefer it to sort of meld into the décor as opposed to being the star," says Jessica Davis of Nest Studio. "Store media equipment inside a storage bench or ottoman and try integrating your TV into a gallery wall—it won't be hidden, but it won't steal any thunder from the rest of the room's décor."
You can always count on a console.
"If you don't have room for a built-in or wall unit, never underestimate a chic console," says designer Laurie Blumenfeld-Russo of LBR | HOME. "It's a fantastic way to hide the wires—they have pre-drilled holes in the back of the piece—and can become a centerpiece of your décor."
Think smart in choosing devices.
"Gone are the days when you have to have cabinetry with glass fronts or open shelving to house all of your media components," says John McClain of John McClain Design. "Consider closed cabinetry and utilize as many wireless and infrared devices as possible. A few small devices could instantly de-clutter your media center."
Look for under-the-TV storage cabinets.
"When designing a media room, try to incorporate storage under the TV," says designer Anne Hepfer. "Cabinets are perfect for disguising electrical cords, games, remotes, and other loose accessories. Plus, organizing all accessories in one spot will make the smaller accessories harder to misplace."
Keep everything clutter-free.
An entertainment area can easily become overwhelmed with clutter from cords and electronics," says Cortney Bishop of Cortney Bishop Design. "Invest in an attractive entertainment console—ideally with doors or drawers—so you can tuck media items away and keep the area tidy."