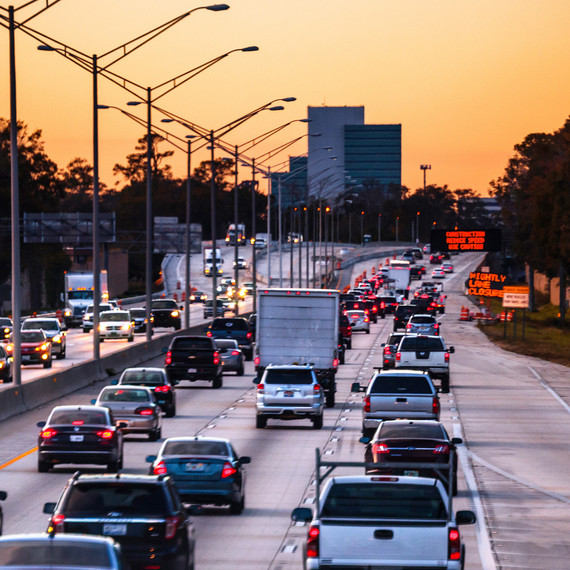 As Americans gear up to celebrate the Fourth of July this week, more than 41 million people will hop in the car and set out for vacations, parties, and events away from home this year. According to a new report issued by the American Automobile Association, with data mined by analytics company INRIX, that's four percent more drivers in total than last year—and some urban residents can expect three times the amount of congestion they normally experience due to tourists and the summer holiday. 
If you live in New York City, Boston, Houston, or Seattle, travel experts at AAA say you'll see the worst delays, and they're advising local residents that travel times will be three times longer than normal at peak rush hours this week. Other cities expected to see travel delays at least double include San Francisco, Los Angeles, Atlanta, Chicago, Detroit, and Washington D.C. If you're traveling anywhere near these metropolitan areas, or planning to hit the highway at some point, it seems that the worst day and time to travel this year will be on Wednesday, July 3, in the early morning hours and in the late afternoon. There's a chance you may see even more delays before then, the AAA reports. 
"Although travel times are expected to nominally increase throughout the week, hands down, Wednesday afternoon will be the worst time to be on the road," Trevor Reed, a transportation analyst at INRIX, said in a press release. Furthermore, the AAA reports that gas prices may be elevated and more expensive than last year at this time due to a regional issue at a refinery in Pennsylvania. 
"Motorists in the Northeast and surrounding regions are likely to see gas prices moderately increase this summer due to the [Pennsylvania Energy Solutions] refinery closure," Jeanette Casselano, a gas price expert with the AAA, told CNBC. "However, the recent bump in the national average, three cents since Monday, is mostly attributed to high demand and the upcoming holiday weekend."
For a detailed map of where you can expect delays this holiday weekend, visit AAA's report here. And if you're looking for ways to celebrate the Fourth of July right in your own backyard, we have you covered with delicious summer recipes and easy party planning ideas to pull it all together.