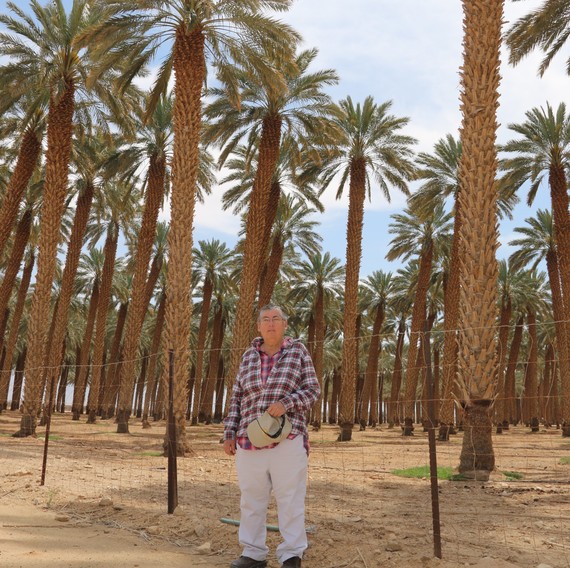 Heirloom tomatoes are one thing; growing a crop with an agricultural history dating back thousands of years is another ambition entirely. Dr. Elaine Solowey, Director of the Center for Sustainable Agriculture at the Arava Institute in Ktura, Israel, is growing plants as historic as the ancient landscape that surrounds her lab, making it possible to taste exactly what humans harvested from the desert thousands of years in the past.
A native Californian and daughter of a fruit farmer, Solowey moved to Israel 40 years ago to research and develop commercial tree crops, medicinal plants, and endangered historic plants, with a particular eye on the crops that can handle salt water irrigation and dry weather conditions. 
In 2005, Solowey gained international recognition for germinating a date palm from a 1,900-year-old seed recovered from ancient ruins. Today, the date—a male palm aptly nicknamed "Methuselah"—grows outside her office door. Three female palms are planted nearby, ready for pollination. When I visit Solowey's lab, I feel my heart start to race when I spot Methuselah, strong and stocky above the yellow sandy soil. Because I am a plant nerd, I feel like I'm meeting a celebrity. Neatly enclosed in a low metal fence painted a cheerful green, the fifteen-foot high palm waves its fronds amicably in the subtle desert breeze. When the female palms paired with Methuselah bear fruit, a single bite of their dates will be the same flavor one would have savored nearly two millennia ago.
But Solowey's interests don't stop there. She cultivates a rare tree farm planted with trees of which only one or two exist in Israel. She's experimented with pitaya, a cactus, and marula, a tree native to Africa (and a favorite fruit of elephants), the tiny pitted fruit makes a healthy juice and a delicious brandy. She grows neem trees for their potent oil and pomegranate trees for their fruit, which is used for treatment at a large hospital nearby. She's a pioneer in bringing the argania tree to Israel by domesticating wild Moroccan varieties. The argan oil from the tree's nuts are used in hair care products. With growing interest from the international market, "it's a pretty sexy project," Solowey says.
History comes alive with her interest in Balm of Gilead, frankincense and myrrh, plants famous from the Old Testament. As well-known as they are from literature and song, these crops are now regionally on the brink of extinction. With help, Solowry tracked down frankincense on an island off of Yemen, and myrrh in the collection of a botanical garden. Drawing on professional experience bridging pharmaceutical and botanical interests, Solowry is keen on finding out if these ancient plants have a contemporary use. "I cannot create a market for frankincense and myrrh. But balm of Gilead has anti-cancer properties," she says.
As a last stop before I depart, we walk through the multi-acre stand of date palms Solowry planted when she first arrived on the kibbutz in the 1980s. They tower an easy forty feet above us, but I get a better sense of their enormous size seeing them felled in a pile nearby. These giants are coming down to make room for argania trees, a more lucrative crop for the kibbutz and the Institute. Solowey is more pragmatic than emotional about the change. She's busy finding a market for myrrh and collecting endangered trees, not mourning change in her immediate past. Her approach is to take the best lessons of the past to grow a more resilient future—creating a living landscape of heirlooms that tell the story of an ancient landscape, tree by tree.