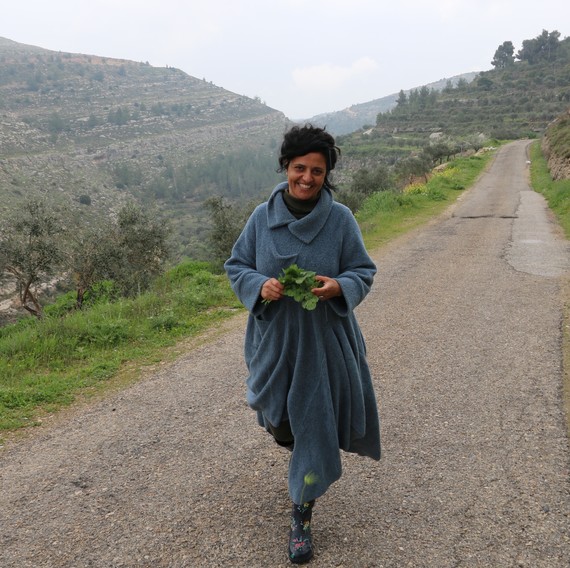 Libraries hold our stories; seed libraries hold the story of our food. Vivien Sansour, founder of the Palestine Heirloom Seed Library, is recording those stories as quickly as she can. 
In 2014, Sansour started the project in Battir, Palestine, to capture the essence of the foods she remembers from her childhood. Rich flavors, textures, and regionally-famous varieties of produce were disappearing from her local markets. In her search—which started, she says, with a quest for a purple carrot—she met more and more Palestinians who had their own seed-stories to share. Her collection now holds seeds for J'adii, a once widely-grown watermelon; khyar abyad, an intensely-flavored white cucumber; and drought-tolerant Baladi tomatoes. "Genetic treasures," she says. Then there is Handsome Dark One, a wheat with dark black "whiskers" on the fruit and a rich, nutty flavor.
"Women talk about him like a love who is long gone. Older Bedouin women say, 'When we were fit and able, we used to grow it. The bread tasted like cake.' There is so much magic to this story," Sansour says. In the 1940s and 1950s, she says, agriculture changed dramatically in Palestine. "We were a center of diversity for wheat. Now, from hundreds of varieties, we grow only two." 
While working with local farmers, Sansour's approach is global. In an effort to keep Palestinian heirloom crops alive, Sansour partners with growers (gardeners and farmers alike) in places as far as California, where a similar growing climate helps Middle Eastern crops thrive. "I'm not interested in creating an archive. I want to see as many farmers as possible using the seeds," she says. Sansour's collection includes regionally adapted varieties that are particularly drought-tolerant and require few inputs, such as fertilizers and herbicides, to grow. "That's the genius and the generosity of these seeds."