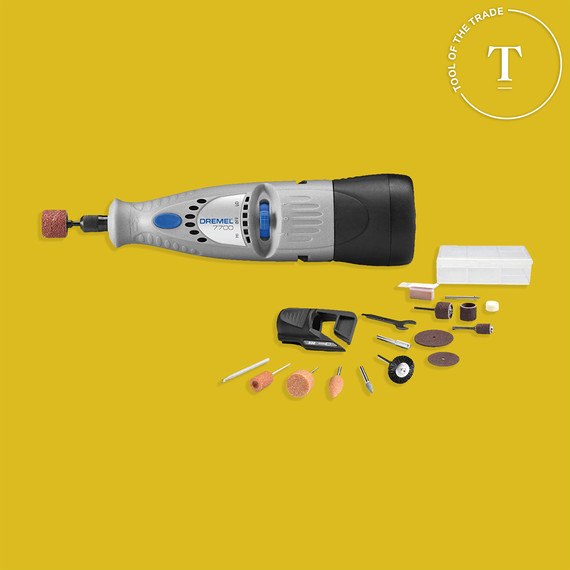 Whether you're a crafter or a home cook, it often feels like there are so many tools you can purchase to help you get a job done. Which ones are really worth investing in? Our editors are here to help. From everyday essentials to more obscure must-haves that will take your practice to the next level, we're breaking it all down. Each week Tool of the Trade will highlight one must-have crafting or cooking item you need to know about.
There's often a tool for every task at hand: linoleum cutters for carving, brushes for buffing to a polish, a rotary cutter for making quick work of fabric, and so forth. But what about a tool that handles them all seamlessly with a switch of an attachment? That's the ingenuity of a rotary tool, which is something you'll find in Martha's own craft room, and it couldn't be more beginner-friendly. 
What Is It?
A rotary tool allows you to cut just about any material when used with the right accessory (think metal, wood, marble, concrete, ceramics, hard epoxy, drywall, tile and grout. The tool itself comes equipped with an easy-to-grip handle and a removable battery pack, so it's designed for the portability and convenience to be used anywhere. Typically, it's sold with multiple interchangeable attachments that fit onto your tool to give it a dedicated function such as a high-speed cutters, sanding drums, grinding stones and cut-off wheels.
How Is It Used?
A rotary tool is used with a variety of attachments—so use the right one for the job. Most times, you'll choose your bit attachment based on the type of material. After ensuring that the tool is turned off and unplugged, you can easily swap attachments. To insert an attachment, place the bit into the hole at the end of the tool and back it out slightly; tighten the collet nut so that the bit is secure and doesn't wiggle. To remove the bit, press down on the shaft lock button while turning the collet. This should loosen the bit so you can replace it. As a safety measure, always wear a pair of goggles and working gloves; this is especially true in tasks that involve debris and sharp edges.
Why We Love It
Consider this a do-it-all tool for the do-it-yourselfer. It's both sturdy enough to cut through metal and delicate enough to drill teeny-tiny holes into shells for jewelry-making (or sea glass for a similar accessory). Over the years, our editors have put it to good use in a number of projects: glass etching, jewelry-making, and even detailed pumpkin carving.
Our Editor's Pick
We like Dremel's 7700 7.2V MultiPro Cordless Rotary Tool, which is the dominant brand rotary tool in the market. As a kit, it comes equipped with 15 different bit accessories usable in practically any task—like as a 191 1/8-inch high speed cutter for carving or engraving, a bristle brush and felt wheel for cleaning or polishing, and a sanding drum for grinding down a smooth surface. This set also comes with a three-hour charger and a removable 7.2-volt battery pack that allows you to use additional packs for continuous use.