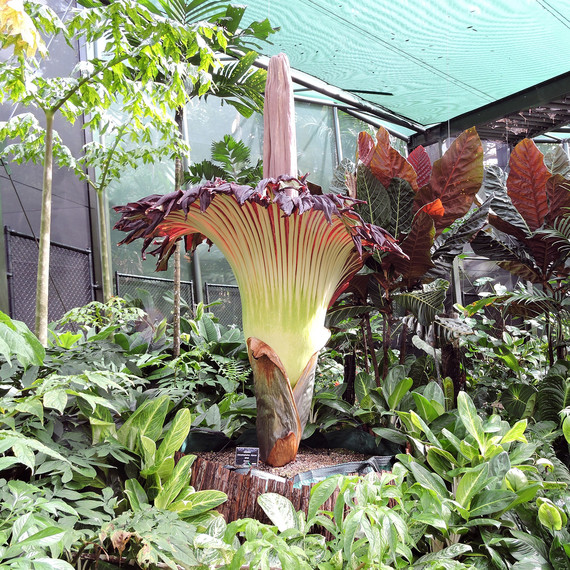 Experts at the New York Botanical Garden are gearing up to celebrate a rather funky phenomenon—the blooming of the Amorphophallus titanum, otherwise known as the "corpse flower," a horticultural marvel that releases a pungent stench that many compare to the smell of rotting meat. NYBG experts say that these flowers mature for an extended period of seven to 10 years, but avid gardeners and aspiring horticulturalists won't have very long to experience its stench for themselves. The massive flower blooms only for 36 hours at the most, according to a press release issued by the NYBG, and can close back up in as little as just one day.
Why exactly does this flower release its stench, you might ask? NYBG experts say its odor helps attracts pollinators that feed on carrion to its flowers. "Amorphophallus titanum is the largest unbranched inflorescence (a cluster of flowers on a spike) in the plant kingdom, growing 12 feet tall in its natural habitat and about six to eight feet tall in cultivation," the NYBG's release says. "Although the enormous plant in bloom resembles one giant flower, it actually comprises a fleshy central spike called a spadix that holds two rings of male and female flowers… During bloom, the spadix self-heats to approximately human body temperature, which helps disseminate odor particles." 

This is not the first time that the Amorphophallus titanum's signature scent has drawn curious crowds to New York's gardens—garden officials have unveiled the corpse flower's stench twice over the past three years. This year, the corpse flower is on display at the Enid Haupt Conservatory in the Bronx; and since NYBG experts say that the flower is gearing up to bloom this weekend, the conservatory is extending its hours so that people can catch a whiff of the rare bloom before it ends. You can find more information about the corpse flower, and a live stream of its bloom, on the garden's website here.