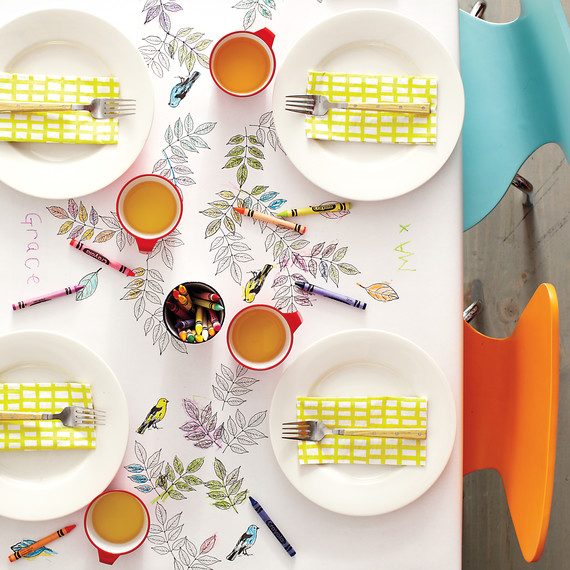 One challenge for hosts is to keep the kids entertained at a party that's mainly geared towards the adults. Children have a lot of energy and might feel a little bored at a formal family meal or a dinner party. You can help them to invest their energy in positive ways by creating a kids' table at your event. "Kids' tables are not only important at birthday parties but for holiday gatherings, too! I always set up a kids' table when hosting a winter holiday party or Passover or Rosh Hashanah," says Seri Kertzner, chief party officer at Little Miss Party Planner. "This way, the kids can eat quickly and go right back to playing without disturbing the adults who enjoy sitting at the table for hours."
But planning the kids' table just doesn't mean choosing a table that is designated for the little ones to sit at. Much more goes into it, especially if you want to make sure that the children at your event enjoy themselves. Your overall purpose or theme for the party plays into how you set up the table for your child guests. So, how can you really nail the kids' table? Try some of these tips for your next event.
Think of the Kids' Table as a Mini Party
You can start planning the kids' table at your event by thinking of it as a mini party. How can you adjust your party theme in a kid-friendly way? For example, you can set up a table with turkey-themed crafts at a Thanksgiving dinner party. Felted party favors for kids at the next wedding could easily win them over! Use elements of your party theme and incorporate them into your kids' table. This makes sure that the kids' table still fits in seamlessly with the rest of the event but the children have fun, too.
Provide Fun Activities
A good kids' table will engage their minds and their hands. "For activities, kids will need something to do when they get to the party," Kertzner says. "Some no-brainers are coloring sheets, crayons, and stickers. As soon as they hit the kids' table, they can color, which will keep them busy until the rest of the activities start." Think of your kids' table as the designated kids' area, and design the section with activities in mind. The activities can also provide cool keepsakes for the children to take home with them after the party ends.
Use Paper Products
While the adults can eat from fine china, the kids can eat from the finest paper plates. "You don't want to be setting the table with anything that can break," Kertzner says. "There are also so many themed and colorful party plates and napkins in the market." Choose paper products that fit your theme or other décor, but also add a childhood flair. From a picturesque storybook-themed table to a mix of pastels and metallics, you can find ways to set the right atmosphere for the kids at your event.
Quench Their Thirst
No matter the party, kids will come thirsty! The Little Miss Party Planner team always has mini-water bottles set up at the table for each place setting. "We design and print customized labels to sticker on each [bottle] which always coordinates with the theme that we're working with," she says. You can also leave a spot for the kids (or their parents) to write their names on it so that everyone knows which bottle belongs to whom. And it's a good idea to have extra water bottles on hand, too. Staying hydrated is important for everyone and even more so during the summer months.