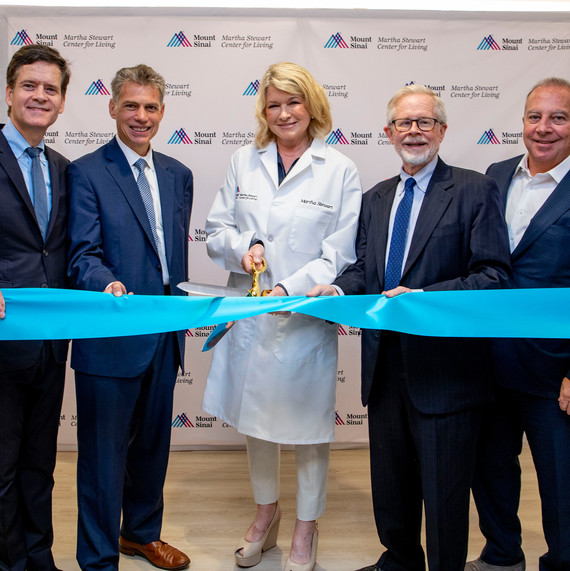 After working with New York's Mount Sinai Health System to establish the first Martha Stewart Center for Living in 2007, Martha is once again teaming up with the hospital group to open a second holistic care center. This week, the Martha Stewart Center for Living at Union Square will open in downtown Manhattan, offering activities, classes, and programs to help older adults remain healthy and energetic into their elderly years. "My partnership with the Mount Sinai Health System continues to evolve as we expand services of the Martha Stewart Center for Living to downtown Manhattan, where the needs of older adults are currently underserved," Martha says in a press release. The idea for the Martha Stewart Center for Living was first inspired by her mother, "Big Martha," who lived an active life to the age of 93, she shares. Her latest partnership has a family tie, too—Martha dedicated the center to her two grandchildren, Jude and Truman.
The center focuses on holistic health and integrative medicine by offering many different resources, including stress reduction activities, yoga classes, tai chi instruction, and nutritional planning. According to the press release issued by Mount Sinai, elderly patients who visit the Martha Stewart Center for Living experience half as many emergency room visits as others in their age group, shorter hospital stays when admitted, and 50 percent fewer readmissions after they've been taken care of. "From now until 2030, 10,000 baby boomers will turn 65 each day. This is the perfect time for leading academic medical centers and philanthropists to partner in improving care for this population and their parents," Martha says.
Martha attended the ribbon-cutting ceremony for the new location on Tuesday. Like its sister organization located uptown, Martha Stewart Center for Living at Union Square will focus on holistic health resources and give patients access to specialists in more than 20 disciplines, including cardiology, gastroenterology, cancer, and dermatology, among others.
"We are honored to once again collaborate with Martha Stewart and bring prove high-quality care to older adults in downtown Manhattan," says Jeremy Boal, MD, executive vice president and chief clinical officer of the Mount Sinai Health System. "It's a model we know works, decreasing unwanted emergency room visits and improving wellness, as seen in our uptown Center for Living. I am grateful to Martha for her commitment and proud to offer this new facility to our communities."
For more information about the new Martha Stewart Center for Living, visit Mount Sinai's website here.