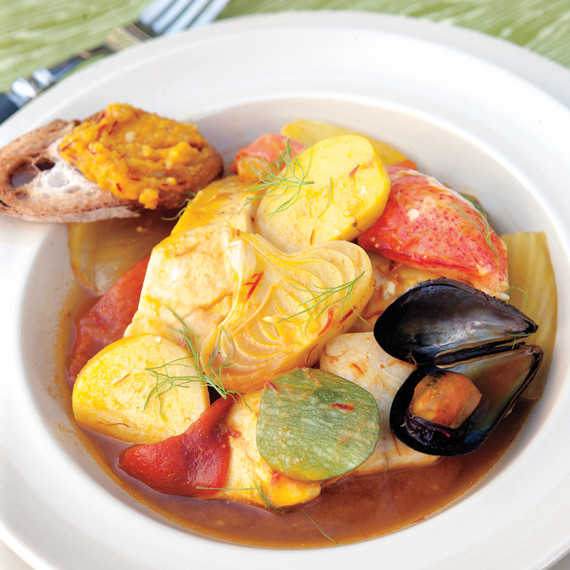 Cooks around the world have long been inspired by traditional French recipes and techniques. Bouillabaisse is a classic fish stew served at Michelin-starred restaurants but, like many reicpes, it has humble beginnings. Don't be put off by it's hard-to-pronounce name and what seems an impossibly long list of ingredients—this fish stew can be prepared in a home kitchen.
Bouillabaisse originated in the port city of Marseille and is a hearty, regional take on soupe de poisson, or fish soup. Typically bouillabaisse is made with a combination of mussels, clams, and chunks of flaky white fish and a delicate tomato- and fish-based broth. Soup de poisson uses many of the same ingredients found in the base of bouillabaisse—fennel, tomatoes, and saffron—but features fish instead of shellfish. Once cooked, whole pieces of fish, cooked vegetables, and aromatics are strained out producing a smooth, creamy soup with a salty, seafood spirit. Both recipes are a delicious way for local cooks to use the catch of the day.
Julia Child shared her love for bouillabaisse in her memoir, My Life in France. "To me, the telling flavor of bouillabaisse comes from two things: the Provencal soup base—garlic, onions, tomatoes, olive oil, fennel, saffron, thyme, bay, and usually a bit of dried orange peel—and of course, the fish—lean (non-oily), firm-fleshed, soft-fleshed, gelatinous, and shellfish." 
There are three main components to making bouillabaisse. First make a fish broth using fish bones, white wine, tomatoes, saffron, olive oil, garlic, water, and herbs. Its much quicker to make than chicken broth, simmering for about half an hour. Then it's strained through a fine mesh sieve to produce a smooth, fragrant broth. Next is the seafood: Some recipes, including Child's, call for at least six different kinds of fish, but the number of varieties is not as important quality as having a variety of flaky white fish, shellfish such as shrimp or lobster, and bivalves like mussels and clams. All get cooked in the broth until tender.
The final trait that distinguishes bouillabaisse from other fish stews, like Italian-American Cioppino, is a slice of crusty bread topped with rouille—a garlic and roasted red pepper paste with a consistency similar to mayonnaise.  With any recipe, there are endless variations on the classic. Some cooks may add vegetables like new potatoes or even small pasta to their bouillabaisse. Some may skip the rouille and just serve a toasted baguette with garlic on the side. But the true merits of the dish—purchasing the freshest possible seafood and supporting local fisherman and—rings true.