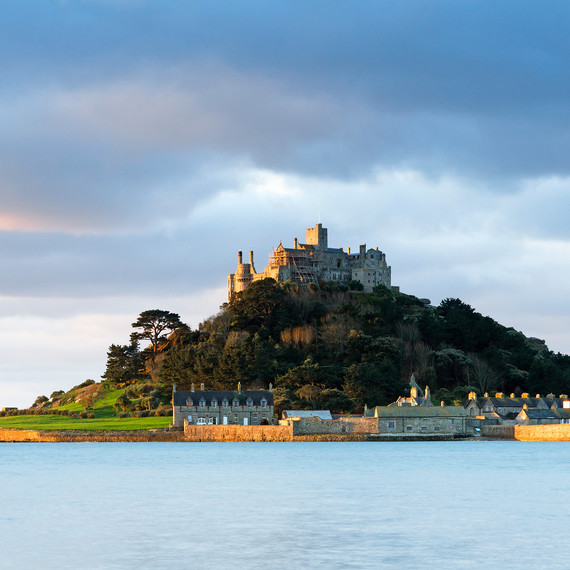 Even those with a green thumb face some challenges in starting a brand new garden from scratch—like maintaining rich, fertilized soil, repelling plant-eating pests, and effectively watering and nurturing new plants and flowers. But one person will face the gardening challenge of a lifetime as the new "head gardener" at St. Michael's Mount, a remote island off the coast of Cornwall, England, where jagged landscapes and salty water make the job that much more interesting.
The island is home to a castle that's nearly 240 years old and would require a new hire to commute to work by boat; beyond battling the natural elements, the head gardener also has to plan and maintain a landscape that perfectly accentuates medieval battlements and other design features. The staff already working on the island readily admit that the newest gardener will have to be up for "a challenge with an unusual plant collection" and must have "a good head for heights."
"Gardening on a rock in the middle of the sea isn't for the faint-hearted, nor is abseiling from the battlements of a castle," the job posting reads. "But the Garden Team on St. Michael's Mount takes all this in their stride as well as the general terrain, which would challenge the most agile mountain goat."
Beyond rappelling down castle walls to take care of flower beds atop rocky cliffs, the new gardener would also have to work with Lord and Lady St. Levan, the current custodians of the castle, as well as live among the island's 30 full-time residents. According to the job posting, this position comes with quite the perk—placement in a Victorian terraced house with sweeping vista views of the castle and the sea beyond.
You wouldn't be working with plain old daffodils, either: there's a current collection of plants growing on the island that's been "honed since the Walled Garden was built in 1780." The gardener would be working with native perennials that they may have never seen before; but duties also include tending to flourishing succulents, including aloes, echeverias, and sempervivums all year round, per the job listing.
If this sounds like you, St. Michael's Mount is accepting resumés and cover letters here throughout the week, and they'll be interviewing top candidates all month long. Can't make it to England? No sweat—here's everything you need to know about starting your own garden right in your backyard.