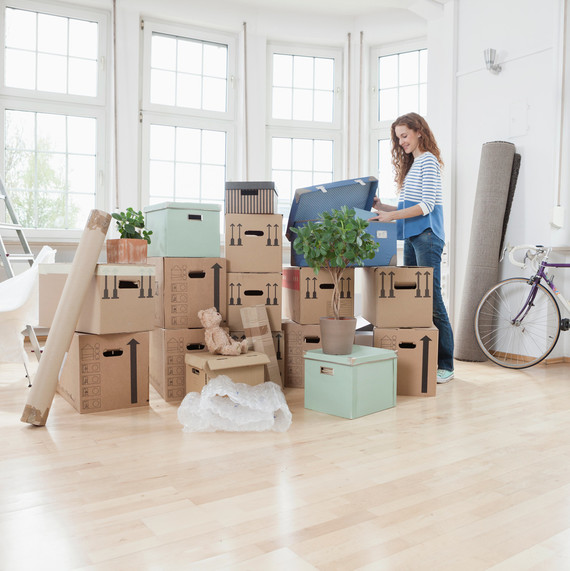 Packing for a big move is enough to make anyone frantic, but it's not just homeowners who end up feeling stressed. Mother Nature feels it, too. Between the amount of packing peanuts, tape, and boxes we purchase for our housewares and the moving trucks that travel long distances and haul all of our belongings from one place to another, a move can take it's toll on the planet very quickly. "Oftentimes, cardboard moving boxes are used once and then discarded," says Matthew Stewart, a spokesperson at Movers, Not Shakers! Inc, an eco-friendly moving and storage company based in New York City. "Even if they are recycled, only 20 to 25 percent of the cardboard is recovered. Additionally, when people are in the midst of moving and most concerned with getting their move down, they tend to throw out a lot of items that could be useful to someone else, recovered, or repurposed." 
Fortunately, as wasteful as the moving industry can be, Stewart says it doesn't have to be. Here, he shares a few simple ways you can lower your carbon footprint as you prepare for your next big move.
Start Planning Early
As soon as you find out that you will be making a move, Stewart suggests beginning to plan what you will no longer need or wish to take with you and finding these items a new home. "Avoid waiting until the last week of your move to try and get rid of items you aren't going to want because they will end up in the trash on moving day," he tells us. Instead, start calling donation centers about drop-offs and pick-up schedules, and listing items you'd like to sell or give away in community swap groups sooner rather than later.
Reuse or Choose Reusable Boxes
As you begin to plan your packing, take inventory of any reusable bins or bags you may have already that can be used to move items. Using reusable bins will also help minimize your need for packing tape. If you don't have any reusable options, Stewart suggests going for the "reuse" option by reaching out to local supermarkets and liquor stores for a variety of box sizes. Chances are, retailers will be more than happy to let you take these boxes off their hands.
Be a Smart Wrapper
To keep fragile belongings protected, consider skipping the bubble wrap and packing your goods with soft items, such as linens and clothing, that you'll have to transport anyway. "You can wrap large pictures and flatscreen TVs in blankets or sheets and line items with pillows and towels," says Stewart. "You can also use old newspapers to wrap up dishes." If you do require bubble wrap and other disposable packing materials, look into sustainable alternatives such as corrugated "bubble" wrap or biodegradable packing peanuts, which resemble conventional styrofoam, but are made of corn or potato starch and can dissolve in water.
Look for Green Movers
To help you keep the move—and Mother Nature—sustainable early on, scope out your area for an eco-minded moving company like Stewart's where green practices are a priority. "We run our trucks on biodiesel fuel (which can cut tailpipe emissions by 80 percent compared to conventional diesel), use reusable bins instead of boxes, and use alternative packaging supplies as frequently as possible," says Stewart. They even offer services to help you dispose of old electronics safely and collect unwanted clothing for donation to give you one less thing to worry about.