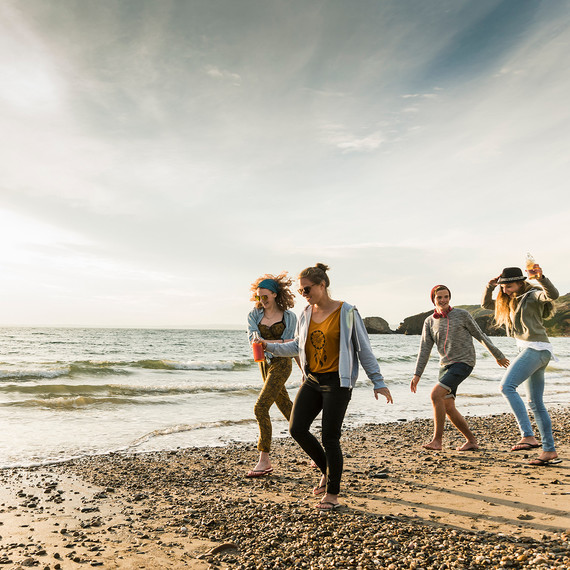 New research suggests that widespread advice of taking at least 10,000 steps per day may not be right for everyone, especially women. Depending on your age, your target goal for daily steps may be less than half that amount—closer to 4,400 steps, which scientists are saying is an estimate that they've carefully created. Thanks to a new study published in JAMA Internal Medicine, researchers were able to determine that women who took at least 4,400 steps per day had a 41 percent lower rate of death compared to other women who only took 2,700 steps per day.
The 16,741 women participating in the study had an average age of 72, and scientists closely studied their activity for about a week. According to I-Min Lee, Sc.D, a professor of medicine at Harvard Medical School and the lead author of the new study, a majority of women in his study hit at least 2,700 steps doing everyday activities. But upping your steps to 4,400, just about a mile more than the average, was shown to be associated with a steep decline in mortality rates.
"If you're at that [sedentary] level and think you need to get to ten thousand [steps], that's a very steep climb," Lee told Consumer Reports, adding that the new amount may be more approachable for most women. "The scientific evidence that underlies 10,000 steps isn't really clear."
The researchers found that those who walked the least each day were most likely to die within a four-year period. But those who walked further had lower risks, although researchers said noticeable benefits started to drop off for women after 7,500 steps a day. How fast the women walked or the intensity at which they walked didn't affect the benefits either, meaning you won't even have to break a sweat in the process.
Researchers admit that some of the women in their study may have been already healthier than others at the start of the study. They attempted to reduce this influence by only considering data from women who were reportedly in good or excellent health at the start of the experiment, and their results still proved positive. Another aspect of this study to note is that the women involved were all older, which means an optimized target number for daily steps may not be the same for younger individuals.
But the study is noteworthy in that it's the first one to show how many steps are associated with reduced risk for death, according to Lyndon Joseph, Ph.D., an exercise physiologist in the division of geriatrics and clinical gerontology at the National Institute on Aging. "What this shows is that exercise is beneficial, and the more exercise you do, the more benefits you see," he said.