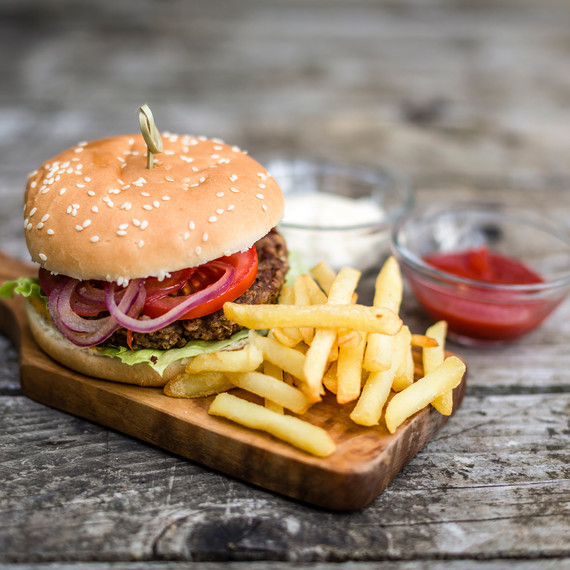 We're all excited to dust off our grills for the summer, but before you invite everyone you know over for a cookout, you may need to stock up on some essentials. Condiments should be at the top of your list; most people would say a grilled hamburger isn't complete without a generous dash of ketchup, mustard, or relish, but the condiment Americans actually love most might surprise you. In honor of National Burger Day, food delivery service Grubhub shared a list of burger trends based on the orders placed on their app, including data on the most common condiments customers request, which type of cheese is most popular, and how veggie burgers stack up against beef patties.
Which condiment do Americans love most? Though ketchup is readily available in homes and restaurants across the country, the add-on the majority of customers ask for alongside their burgers is mayonnaise. Don't feel too bad for classic ketchup, though; it earned the second spot, followed by traditional yellow mustard. As for toppings, Grubhub discovered that pickles are ordered the most on a burger, even before tomatoes and lettuce, which were second and third, respectively. Onions and bacon were also among the top five most requested toppings.
While burger fans may feel divisive about mayo as a go-to condiment, it's less of a surprise that American cheese is the most popular cheese for a classic cheeseburger; Martha has even admitted that she can't resist American cheese, as it's one of her favorite snacks. Other popular choices used in grilling sessions include cheddar (a close second), Swiss, provolone, and pepper jack cheese.
It seems that Americans are equally crazy over veggie burgers: Natalie Gerke, a senior communications manager for Grubhub, tell us that meatless burgers are becoming more and more popularity among users. Each U.S. region has different tastes, however, as black bean burgers are mostly ordered in the South and Midwest, whereas the Impossible Burger tops the list in the Northeast and in the Western states.
There are so many different ways one can top a burger, from cheese selection to creating unique condiments that you can't find in restaurants. Use our best burger recipes as inspiration to fire up delicious hamburgers all summer long.