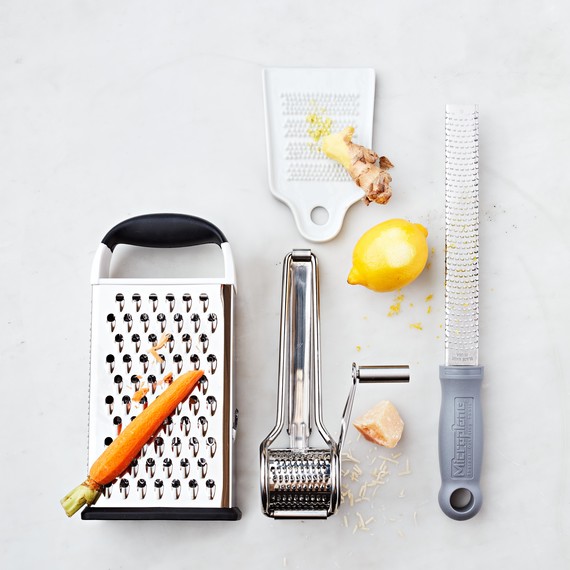 The right kitchen gadget can make or break a recipe. A sturdy vegetable peeler can create stunning ribbons of raw vegetables and big shavings of Parmesan. A sharp kitchen knife is key to smooth, even slicing. When it comes to graters, there are perforated power tools deft at shredding cheese and others that ace zesting citrus. Here are the four we use constantly. All are slim enough to stash away in a drawer so they won't clutter your countertops, and they're dishwasher safe (with the exception of the hand-cranked cheese grater).
The Multitasker
Four-sided box graters have one end that slices like a mandoline and three other opening sizes: Go small to break up solidified brown sugar, medium for semi-hard cheeses or chocolate curls, and big for vegetables or butter you're incorporating into dough. Use the attachable container to collect your shreds and minimize mess.
Our pick: OXO Good Grips Box Grater, $20, bloomingdales.com.
The Spice Smasher
A ginger grater separates the root's tough fibers from its pulp and pools juices in a hollow at the base. It also cuts intensely flavored garlic cloves, fresh wasabi, and horseradish into tiny bits. Ginger root is a delicious way to add fresh, subtle spice to soups, slaws, and salads.
Our pick: Kyocera Advanced Ceramic 3-1/2 inch Grater, $13, amazon.com.
The Daily Grind
Position a chunk of Parmesan or pecorino inside a rotary grater with the attached clamp, and churn out confetti. The tool keeps fingertips safe—a handy feature when you're working a small piece. Plus, you'll impress family and friends as you go around adding a fresh cheese garnish to each plate. Buon appetito!
Our pick: American Metalcraft Hand-Crank Rotary Cheese Grater, $23, amazon.com.
The Fine-Tuner
Citrus zest, chocolate, and whole spices (such as cinnamon or nutmeg) morph into freshly milled magic when run back and forth on a rasp grater (aka zester). Tip: Hold it upside down, and your yield will pile up neatly on top. Most microplanes come equipped with a plastic guard, so keep it on when you're not using to maintain the grater's sharp blades.
Our pick: Microplane 40920 Classic Fine Grater, $13, amazon.com.