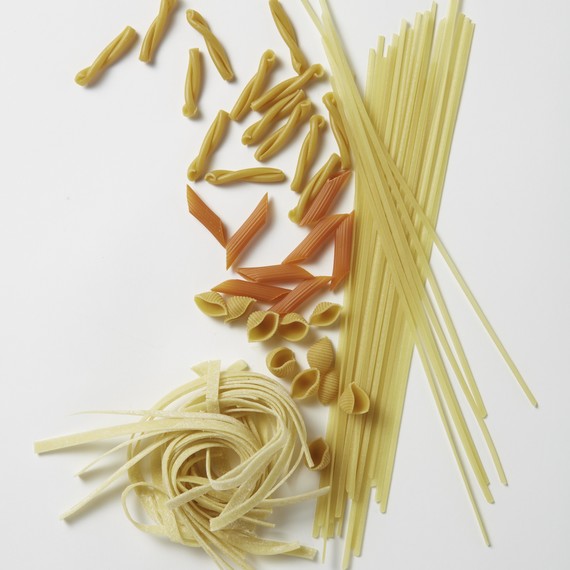 Find out what's been happening in the world of 42 burners, aka our test kitchen, with our weekly series.
Whatever your reasons for skipping wheat, you don't have to give up on pasta entirely—there are a number of gluten-free pastas worth trying. When gluten-free pasta first appeared in markets, it seemed heavy, chewy, and strong tasting compared to regular varieties. Gluten-free pasta can be made with a number of different ingredients such as chickpeas, quinoa, brown rice, corn, peas, or a combination. Our food editors decided to try several different brands to find which alternatives offer similar satisfaction and comfort to regular pasta.
In a taste test, the test kitchen team found that pastas with the most noodle-like texture—starchy, study enough to soak up sauce—were made from legumes, like chickpeas and red lentils, or rice. The winners: Banza shells, Barilla red-lentil penne, and Bionature organic gluten-free linguine. One notable exception was almond flour-based Cappello's fettuccine, which "has a delicious nutty, al dente bite," says assistant food editor Riley Wofford.
How to Cook Gluten-Free Pasta
Like any recipe, always read the instructions before cooking. "Gluten-free pastas have come a long way. We didn't find any of them super heavy or chewy, if cooked properly," says Riley. Once cooked, you can use gluten-free pastas the same way as any other pasta. Mix it with homemade pesto, toss with a creamy cheese sauce and asparagus, or with roasted eggplant and peppers. "It's a good idea to save the pasta water as you would normally, since pastas made of chickpeas, lentils, and rice, all have starch and that pasta water will help thicken the final sauce," suggests Riley. 
The Winner
"Our overall favorite was Capello's almond flour fettuccine. It had a very pleasant flavor and the texture was not unlike regular pasta," says Riley. "However it cooks quickly; my recomendation would be to cook it just as directed on the box. If you cook it longer, it will start to fall apart on."