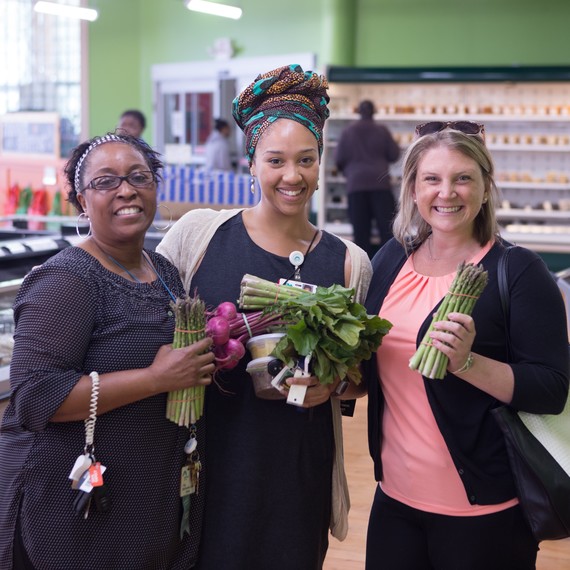 There's no doubt that eating plenty of fruits and vegetables is better for our health. Unfortunately, many Americans don't have access to fresh produce everyday. In fact, an estimated 13.5 million Americans currently live in areas where there is very low access to full-service supermarkets, healthy food options, and fresh fruits and vegetables—these areas are known as food deserts. 
According to the United States Department of Agriculture, a community living in a food desert often has a poverty rate of more than 20 percent and at least a third of its population resides more than a mile away from the nearest supermarket. In many cases, these residents also either lack access to mass transportation systems or don't own a car. And if there is a smaller store selling grocery staples nearby, it's likely that these food selections both lack enough healthy options and come with a higher price when compared to items at a full-service supermarket. Fortunately, there are many organizations nationwide dedicated to helping local residents shop, eat, and cook healthier by providing them with access to fresh foods and vital health education. Read about four of these changemaker organizations fighting food insecurity in their communities.
the bulb
For nearly 70,000 residents of Mecklenburg County, North Carolina, where the median income hovers at $30,000, the closest place to buy food is more likely to be a fast-food chain than a grocery store. To help provide these communities with education and access to healthy eating, the bulb introduced a series of weekly mobile farmers markets. Currently, these markets are helping to serving residents in 15 food desert neighborhoods. Here, visitors can purchase locally-grown fruits and vegetables while also learning about proper nutrition, exploring new ways to cook, and connecting with local farmers.
Tiny Fields
Since 2013, this Minneapolis-based organization has not only been empowering its community through agriculture, but also aims to help its residents lower their carbon footprint. By providing participating households with the materials and resources to start their own curbside garden (or "tiny field"), the organization is both helping its residents gain access to fresh produce as well as foster deeper connections within their community. Volunteers from Tiny Fields work with participating households to assit in tilling soil and planting seedlings. The organization then provides participants with recipes, harvesting tips, and gardening support via their social media channels. 
Daily Table
Inside this Massachusetts-based grocery store, neighborhood residents can purchase fresh food and healthy pre-made meals at low prices while also helping to keep more food out of landfills. By working with local growers and supermarkets to rescue surplus food stocks and redistributing them to those in need, this not-for-profit retailer is on a mission to help fight food waste and food insecurity one healthy meal at a time. Currently planning its third location in the area, Daily Table also prides itself in employing local residents. Community members can even visit the store's Teaching Kitchen where they can take take free cooking classes on everything from kid-friendly meals to diabetes-friendly foods.
MoGro
Serving hundreds of residents in the Santa Fe community, MoGro is a pre-order delivery service, offering weekly produce shares to community members on a sliding pay-what-you-can scale. Originally operating as an actual full-service grocery store out of a semi-truck, today, MoGro is helping to feed residents in need with seasonal deliveries of locally-grown fruits and vegetables along with breads, meats, and cheeses. After placing their orders online, shoppers can pick up their food purchases at one of four designated locations. MoGro also hosts community events to help educate residents on healthy cooking and build relationships between local farmers and families.