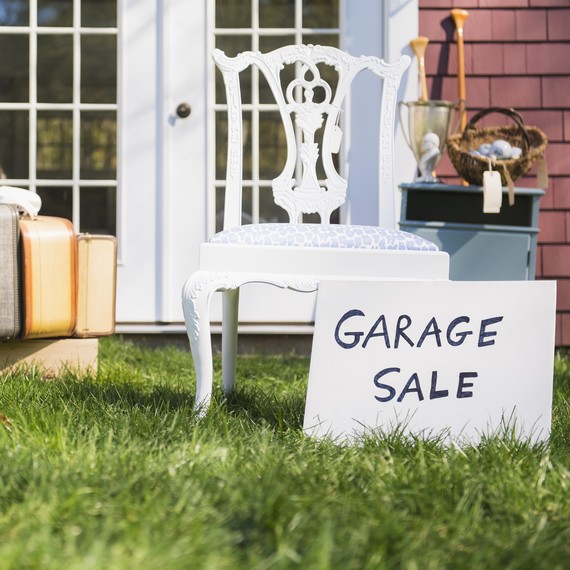 There's a distinction between someone who leisurely strolls through garage sales and someone who makes it their mission to find deals. Some people like myself have an eye for the unusual and turn their passion for finding second-hand treasures into a business. These yard sale aficionados know how to beat the crowds and sort through the offerings to find that one underpriced treasure. However, the hunt is not for everyone. It takes some skill, careful planning, and luck to make going to a yard sale a worthwhile experience.
After years of buying and selling antiques, I've come up with some handy tips to help your score your first deal.
Pinpoint Weekly Sales
Download a yard sale app—like Yard Sale Treasure Map, GSalr, Yard Sale Search—or search on Craigslist for upcoming sales. If you're looking for antiques, focus on historic neighborhoods or rural areas. If you're looking for quality household items, search for deals in upscale neighborhoods. Ideally, find one area with several sales all within a few miles. This hyper-focused target will improve your chances of finding a good buy.
Arrive Early
In most cases, the best items tend to sell quickly unless you're searching for something that usually flies under the radar. Try to arrive at a promising yard sale within the first 30 minutes of opening. (Check your local flyers or online listing for this information.) For many sales, the day could start as early as 7 a.m. When you arrive on location, do a quick scan; if there is nothing of interest, head to the next one on your list. You'll get faster at spotting potential deals the more often you go to yard sales. 
Assess the Resale Value
If you want to resell second-hand items, first become familiar with general resale values. To maximize your success, it's best to stick to a niche market that you are genuinely interested in at first, like jewelry or dishware. Having an appreciation for the niche will make the research process less cumbersome. Spend time researching commonly sold items in that niche on eBay and Etsy. Remember to look at the sold prices and not the list prices. You should also keep in mind that condition is important. Sometimes, it's tempting to buy expensive items for less at yard sales, but make sure you do a thorough inspection before you commit to purchasing an item. Broken products that cannot be repaired are best left behind because the defect will significantly reduce the resale value. 
Barter a Better Deal
It takes finesse and confidence to barter at a yard sale, but negotiating prices is the most common way to score an unbelievable deal. Keep in mind that this process can go south quickly. Exhibit some tact and start with a realistic number that isn't offensive to the seller. Be willing to go up from that number slightly. The best bartering deals are when both the buyer and seller walk away feeling good about the final price. Bring plenty of small bills so making change is easy. It's also smart to set a budget before you hit the sale or to set price limits for certain items so you don't overspend.
Have a Moving Plan
If you need to furnish a place with furniture or you want to buy and sell larger antique items, make sure you come prepared. Bring along essential tools like a screwdriver and tape measure. Also, have a plan for moving purchases promptly. You might need to borrow a pickup truck or an extra hand to make a move happen. The more efficient you can be with moving, the more willing the seller will be to negotiate.
Don't Just Buy to Buy
Unless you are buying with the intent to resell, don't buy just because there is a good deal out there. Ideally, you should have a home in mind for any item you purchase, whether that's your shop, your home, or you plan on gifting the purchase to someone else. Shopping at yard sales can be addictive and can lead to a clutter problem if you're not careful. Before you shop, have a general idea of items you need or would like in your home. If you want to start reselling items, have a realistic plan to do so before you begin collecting inventory.