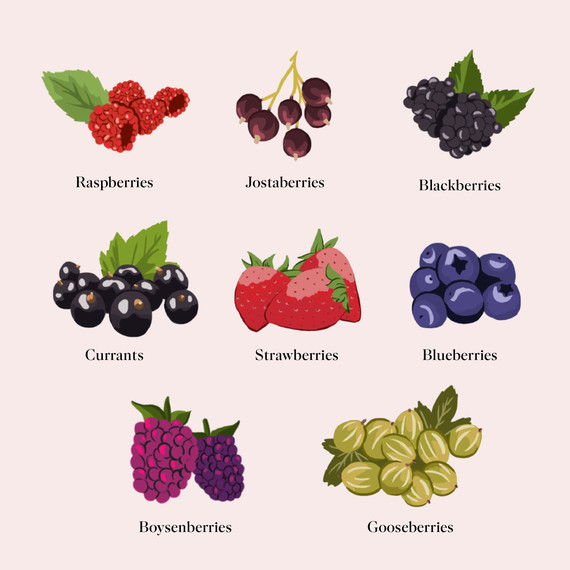 Berry picking is one of the ultimate family-friendly summer activities. Everyone will enjoy plucking brightly colored, sweet-smelling gems like strawberries, blueberries, raspberries, and blackberries as well as the lesser known, but still beautiful boysenberries, gooseberries, and currants from bushes, shrubs, and vines. We're sharing our top tips for PYO (pick-your-own) success. 
Go Early in the Day
The early bird gets the worm (or berries, in this case)! Berries will be fresher earlier in the day and there will be more of theme. Arriving in the middle of the day means more crowds, blazing sun, and a somewhat picked over selection of berries. PSA: Call the orchard you want to visit before you head out—overnight weather can affect the crops and picking conditions and may even prevent a farm from opening that day. And don't forget to wear the right gear. Even if you're in a slightly shaded area, always wear sunscreen, a protective hat, and sunglasses.
Know When Berries Are in Season
The best time for berries varies based on location so call your local farm for advice and to make sure you're going at the right time. Generally strawberries are the first berry ready for picking, thye are at their peak from early June through early July. Blueberries are available for picking from early July to mid-August. Raspberries are one of the last berries to arrive, usually in their prime from late August through mid-October. 
Pick the Best
Strawberries don't ripen off the vine so pick ones that are bright red all around; any green spots won't turn once plucked. Blueberries and blackberries should be firm to the touch, and raspberries should not be mushy. The sweetest red raspberries will be darker red, so keep an eye out for their super pigmented color. If you're planning to make a berry preserve or jammy pie, ask if the farm sells less-than-stellar berries at a discounted rate (many do!). Those recipes are the best opportunity to use up not so perfect produce.
Crop Costs
Most farms and orchards will charge for berries one of two ways: Either visitors buy a certain size of basket for a flat rate and fit in as many berries in as possible, or they'll charge you a certain price per pound, which means you'll pay at the end based on the weight of the berries you've picked away. Pre-picked berries are often available for purchase at the farm's market and may vary in size and price.
Transporting and Washing Berries
Choosing the right container will help you avoid squishing your freshly picked perfect berries. Because berries are so fragile, it's best to lay them in as few layers as possible. Contrary to the square style you might find at the grocery store, your berries will be best protected in a shallow, rectangular basket. When you bring the berries home, quickly dip them in a bowl that has a 3:1 ratio of water to distilled white vinegar. The vinegar will help prevent mold growth. Be sure to carefully but thoroughly dry the berries off with a towel, as any excess water can cause premature spoilage. If you're not going to use all of the berries within a few days, freeze them in a single layer, which will prevent clumping.
How to Put Your Berries to Good Use
Jams and juices, pies and pops, sauces and shortcakes… there are so many sweet ways to use the abundance of fresh berries you picked. For a cool slurp, try these Banana, Berry, and Buttermilk Popsicles or Granola-Berry Parfait Pops, both are very kid-friendly. This Macerated Berry Topping can go on anything from waffles to ice cream to pavlovas. And there are some classic berry recipes that you just can't ignore like a stunning Two-Berry Tart, Strawberry Shortcake, a Blackberry Crisp that uses five pints of berries, and a Double-Crust Berry Free-Form Pie.