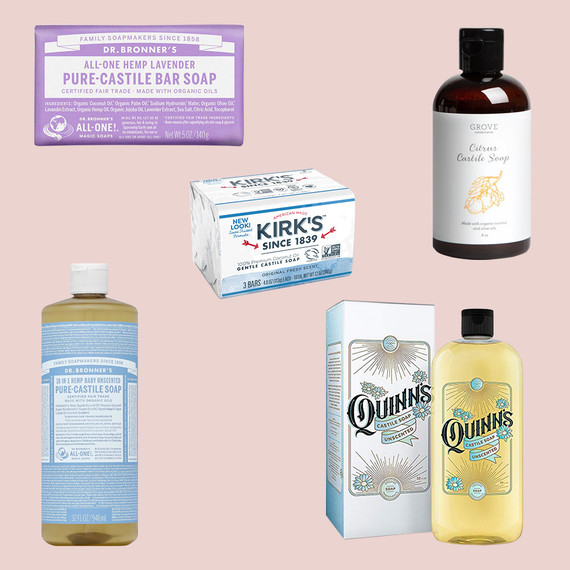 Chances are, even if you don't think you know what castile soap is, you probably do. Most of us have stumbled across a bottle or bar of the famous Dr. Bronner's soap in the household aisle of Trader Joe's or Whole Foods, right? We also like Quinn's castile soap, Kirk's original fresh scent castile bar soap, and Grove Collaborative's all-purpose castile soap—all for purchase online. While these brands are a prime example of what castile soap is, the formula isn't specific to just one company. In fact, it gets its name from the first Castile region of Spain where some of the first olive oil-based soaps were made.
Here, your ultimate guide to this multipurpose household essential.
What is castile soap?
The beauty of this soap is that it's made with only vegetable fats like coconut, hemp, olive, avocado, walnut, or almond oils rather than animal fats. It also cleans without being abrasive and is still natural, biodegradable, and nontoxic—meaning that when properly diluted it can be used to clean everything from fresh produce to stinky pets. In fact, you can make your very own bubble bath and ultra gentle dog shampoo with diluted castile soap.
Why is castile soap considered healthy?
Most commonly scented with essential oils instead of synthetic fragrances, there's no need to worry about its environmental impact to ground water and it's gentler on skin that gets easily irritated by artificial scents. Because it's made with saponified oils it can actually help hydrate the skin. But don't be fooled: It's also tough on grease and grime and can be used to clean every room in your house. Watch it power through cooked on kitchen oils and clean counters, sinks, tubs, toilets, and floors, too.
How to use castile soap at home.
If you're ready to make the switch in your own house, you'll quickly notice how much less you're spending on specialty products by replacing it with this all-purpose household cleaner. While it's easy to use, there are a few things you should know about before you open your first bottle or unwrap your first bar. Choosing between the liquid and bar soap is mostly a matter of preference. Both clean equally well, but if you're using the soap primarily for cleaning instead of personal care, it's smart to invest in the liquid. Bar soap needs to be diluted in water before you can use it to clean surfaces.You'll want to make sure that you're buying from a reputable brand with sustainable, fair-trade practices. There also a few instances where you might want to skip using this soap—if you have hard water, are cleaning a surface with vinegar, or if you've used lemon juice on a surface. It reacts with these substances to leave a white residue on surfaces that can be annoying to remove.
Try out this green cleaning staple for yourself and see how quickly you can run through its multitude of uses. You'll breathe easier knowing that you're not exposing your family and pets to harsh chemical sprays or chemical residues on surfaces while still ridding your home of dirt and germs. It's such a money-saving, versatile alternative.