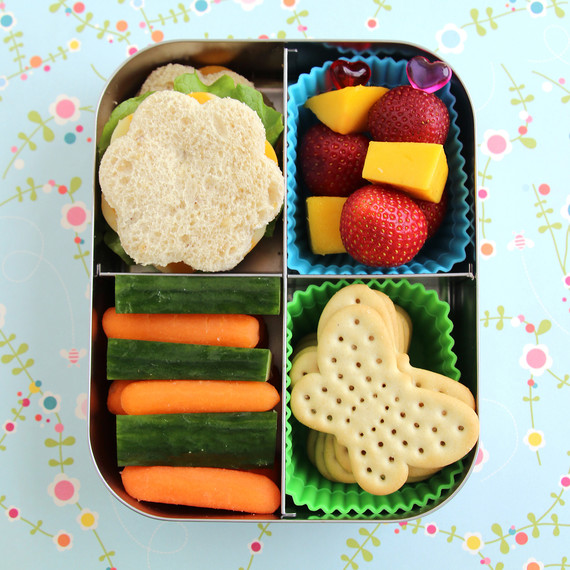 If your little one won't so much as look at a piece of broccoli or bowl of peas without turning up her nose, ensuring she meets her nutritional needs can feel like a challenge. According to Lori Leach, speech-language pathologist and feeding therapist at MercyOne Des Moines, taking small steps to increase a child's engagement with problem foods—a method called the Sequential Oral Sensory Approach to Feeding—makes it less daunting. One way to do that: Cut the food into bite-sized pieces and serve them with fun bento food picks (we love these CuteZCute nature-themed ones). Martha Stewart Living style editor, Naomi de Mañana, uses them with sandwiches sliced into mini squares. "When I do that, I notice my kids eat them all up—rather than pulling apart the bread and messing with the contents," she says. Here, more tips to get any fussy eater into the clean-plate club.
Make Her a Sous-Chef
When you can, involve your kid in grocery shopping and meal planning: "Sometimes, if they feel like it was their choice, they are more willing to try it," Leach says. Letting them wash vegetables or help mix a sauce can also be a great way for them to get used to how a food smells and feels.
Feast Family-Style
Passing dishes person-to-person can help initiate a positive interaction, says Leach. By having your kid serve herself a small portion of an item she dislikes—even if she won't eat a bite of it—you're also helping her to normalize the presence of the food on her plate.
Test the Waters
Instead of forcing a child to eat something, Leach suggests encouraging small interactions, such as saying, "I bet you can build a tower with those blocks of cheese," or telling your child to make a happy face on their plate with fruits and vegetables. "These actions can help move the food closer to your child's mouth while prompting anxiety-reducing play." Having your child help stir the food or transfer it into another container during meal prep can also be ways for them to become more familiar with the food.
Take the Plunge
Ask your child to touch an offending food to her tongue, or take a bite and spit it out, says Leach. This can increase her comfort level with the item—and eventually, her willingness to give it a fair try. "Some kids also do well if you give them visuals, like a sticker chart, so they can see the number of bites you would like them to take or the number of foods they should try in a meal," Leach explains. However you decide to do it, remember to stay positive and encouraging as trying new things is often tricky for everyone!