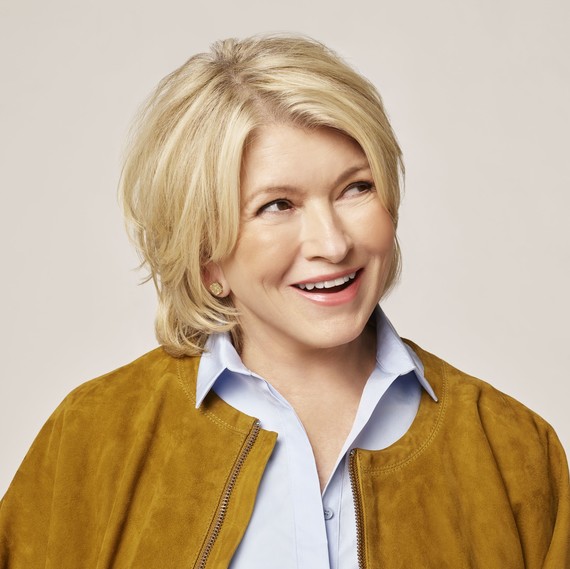 We've learned many things about Martha's favorite foods over the years—just recently, our founder revealed a few of her favorite snacks as well as some of her go-to restaurants in New York City, where she works during the week. While we know upscale Greek restaurant Estiatorio Milos in Midtown is home to one of her favorite sit-down lunch dishes and that she loves ending a meal with the lemon tart at Cipriani's, Martha doesn't always have time to enjoy a long mid-day meal. When she's busy, our founder visits one her favorite to-go lunch spots, and her go-to order even includes a signature New York meal: a loaded hot dog.
In an interview with Town & Country, Martha reveals that she's actually a big fan of a classic New York hot dog when she needs to dine quickly—and she knows that might be a little bit surprising. She pairs it with a fresh, light beverage and chooses her condiments wisely. "Well, I'm not averse to getting a fresh-squeezed orange juice and a hot dog with a lot of sauerkraut and mustard at Papaya King up on 86th Street and 3rd Avenue," she said. "You might think that's weird but it's delicious… That's a favorite stop when I didn't have time to eat all day."
If she's in the mood for a lighter lunch, Martha might head instead to Via Quadronno, an Italian café located on 73rd Street between Madison and Fifth Avenues. Another Upper East Side favorite, the team at Via Quadronno offers comforting Italian classics all day long—but Martha is a huge fan of the "Sferzata Di Salute," a special blended soup that's perfect for chilly weather. "It is a delicious café—I just had soup from there for lunch. They make this delicious vegetable purée soup that is so healthy," Martha says. "There's no oil, no butter, no cream. It's just vegetables in a broth that are all finely, finely puréed. And it's so good. I often get that for lunch if I'm in that neighborhood."
But Martha can't always make it to the Upper East Side, as her offices are based in Chelsea—and she often heads even further downtown to visit family. "I go downtown to the Perry Street neighborhood; my daughter and the kids live down there," she says. "I can run the whole gamut up and down Manhattan." When she's not making her way uptown, however, Martha says she has two favorite spots she visits when she's in the mood for a delicious sandwich.
At Russ and Daughters, a specialty fishmonger located in the Lower East Side, Martha's favorite meal is a brunch classic that you can order all day long. "They make really good bagels with either white fish, or the green caviar," she says. "Or, you can get the cream cheese and fresh smoked salmon, it's so good." Another Italian hotspot with a few locations throughout the city, Sant Ambroeus serves up freshly pressed paninis during lunch that Martha can pick up in a pinch. "I stop at Sant Ambroeus down in the West Village. They make delicious little sandwiches," Martha says. One of the restaurant's signature items, the "Sant Ambroeus" features veal Milanese served atop a bed of arugula and tomato, and is finished with a swipe of Dijon mustard.
If you're looking for equally delicious sandwiches and lunchtime favorites that are perfect for a meal on the go, check out our favorite lunch recipes here—plus, a few of Martha's favorite springtime treats that you can make right at home.