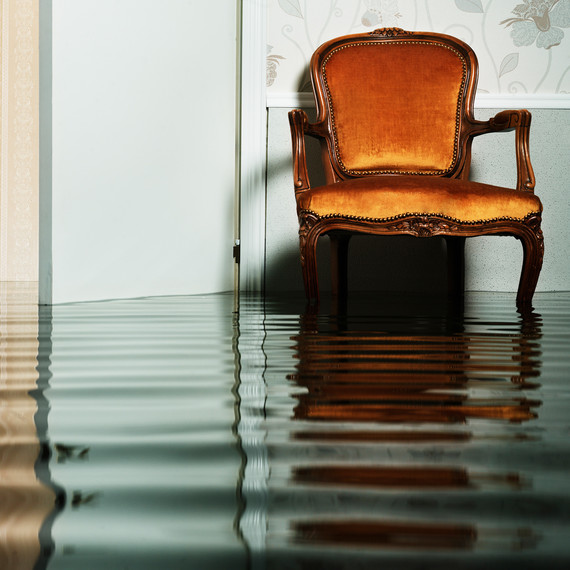 Unless you've experienced a flood firsthand or live in a climate where major weather events are common, your insurance company's stance on flood damage isn't likely to be top of mind. The truth is, most basic homeowner's insurance policies do not cover all of the expenses related to interior flooding; what may start out as an innocuous maintenance issue can snowball into one of the most costly events that you've ever dealt with. "If there's one thing to take away from talking about floods, it's that everyone—even those who are not living on the coast—is susceptible to flooding," says Ana Robic, a water risk expert and the chief operating officer at Chubb Limited, a global insurance company. "Areas that are historically considered low-hazard zones are actually where the majority of our flood claims are filed."
As Leslie Anderson, a vice president of training at Paul Davis, a national network of experts in emergency repairs, restoration, and general cleanup, explains, flooding is categorized in two ways: There's the flooding (and resulting damage) caused by natural disasters and there's the kind of flooding caused by wear and tear within your home's plumbing system. Robic says the latter  is the number one cause of damage that insurance companies assess. This kind of flood damage can occur without notice, leaving homeowners dealing with anywhere from eight inches to two feet of standing water in their homes (or more, in the very worst cases). That's why experts suggest homeowners add a few routine tasks to their to-do lists to keep pipes from bursting in the first place.
Understand Where Leaks and Floods Begin in Your Home
Anderson says interior floods are more common than floods caused by weather. Old PVC pipe can often break without being noticed, which can cause leaks inside your walls over time, leading to widespread electrical damage and deterioration of structural integrity, including drywall, frames, and bolts. "Folks will know if their piping is getting older because it becomes yellow and very brittle and can break very easily. In addition to PVC pipes, many homes will have copper piping, and if that piping has been there for a long time, pinholes can spring up that spray leaks, causing interior damage to whichever space they're located in," she says.  
Even if you can't see older plumbing, you may hear it first. The team at Bell Brothers, a Sacramento-based group of plumbing and HVAC contractors, say that when older PVC materials crack, air enters the pipes, resulting in loud banging or ringing. Another common sign that it's time to call a specialist is when your water pressure is inexplicably low. But pipes aren't the only source of interior leaks. Dan DiClerico, a smart home strategist for HomeAdvisor.com, says washing machines, HVAC units, and water heaters are all common sources of concern. "There's a lot of new smart home technology that can help you prevent a leak when it comes to water systems—or, at the very least, help you notice them quicker than you would normally," he says. "In the event of a leak, you'll be notified and have time to address it."
What to Do When a Pipe Bursts
If you discover flood damage in your home, it's important to act fast. DiClerico says you have between 24 and 48 hours before mold and mildew begin to set in, and once it does, it "becomes a whole different scenario." First, stem any internal leaks and stop the water flow, then call for a repair crew to come out, Anderson advises. "Most crews respond immediately, arriving within an hour," she says. "Crews will conduct moisture readings and figure out what they can save; depending on what's in the floodwaters, they'll dry it in place, or they'll have to completely remove those materials."
There are varying degrees of flood severity, but a flood that starts with water in your plumbing is usually known as a "category one" flood. These floods consist of potable water that isn't as volatile as waters that have originated outside of the home. The cleanup process for this kind of flood takes anywhere from one to four days. Since the water can be clean to begin with, most of your furnishings and belongings can be saved, as long as mold and mildew haven't completely overtaken the item.
How to Save as Much as Possible
If you're dealing with a category one flood, the first thing you should do is to get rugs, furnishings, fabrics, and any other porous materials out of the home and into the sun, DiClerico says. "Drying out the house, opening every window and door, running dehumidifiers and fans, getting as much air into the home as quickly as possible—that's the most critical step." Anderson adds that flood repair crews can treat some porous materials that have been affected by water damage so long as they haven't been left too long.
Since mold, mildew, and other forms of bacteria also grow on solid, non-porous surfaces, you'll want to sanitize these with bleach during cleanup, too. DiClerico recommends wearing a respirator as well as goggles and gloves when handling bleach and potential mildew, both of which can affect your respiratory system. "If there are more than 10 square feet of mildew or mold, or if you haven't been there for a few days and flooding has accumulated for that long, you probably should be calling in a professional." Mixed materials like stone flooring, which contains non-porous tile and porous grout can also be cleaned with bleach, but the extent of the damage will need to be assessed on a case-by-case basis to determine if it needs to be replaced.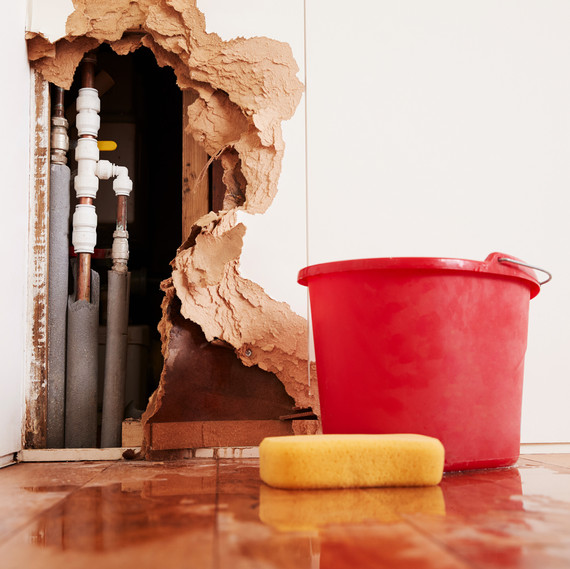 Preventative Options
Sump pumps could prevent a flood from spiraling out of control, and they can be a lifesaver in the event that your basement has begun to fill with water. They're installed in the lowest part of a basement, keeping the area under your home dry by pumping the water away from the building. DiClerico says, "It's an investment, but it could stop the snowball effect—just keep in mind that if your electricity turns off, you'll need a generator backup to continue to pump out water."
You should also make sure your home's rain management system is in working order: DiClerico says your gutters, which should lead away from your house, should be free of any debris. You should also check the functionality of your gutters before periods of heavy rain in your area. Beyond inspecting your pipes and gutters for outward signs of stress and installing preventative technology, Anderson says the best way to minimize your risk for an interior flood is to call in an expert to inspect your home: "Have a certified plumber come out to your home and check appliances at least once a year, as a lot of these leaks show warning signs before they actually happen."
Why Homeowner's Insurance May Not Protect You From Faulty Plumbing
Even with preventive measures in place, flooding can still occur, Anderson says, and your homeowner's insurance may cover things like a leaky roof or a cracked pipe in your basement. Even so, most homeowners don't understand how policies vary substantially when it comes to how much coverage they'll receive from a flood damage claim—and whether or not it's enough to cover repairs, Robic says. "There are a few questions you'll need to ask about your homeowner's policy: If damage does happen, will you have replacement cost coverage, and how much? And if so, will it cover matching contents?" she says. "Plus, ask about the repair itself—will you have your choice of repair crews and services, or will the insurance company designate one for you?"
If you live in a coastal region at risk for natural disasters and other sources of external flooding, you'll probably have to buy supplemental flood insurance. But even if you are landlocked and aren't at risk for severe weather, you may want to have another conversation with your insurance broker about interior leaks and burst pipes. It's not hard to believe that leaky plumbing, broken fixtures, and busted appliances are the number one cause of homeowners policy losses, according to Robic—even more so than fire or burglary.
"Interior flooding makes up 45 percent of all our interior property losses. As homes age, some of the plumbing systems age and can crack or freeze in the winter and then burst, which results in water damage claims," Robic says. "In some cases, this can go on for days without being addressed, resulting in serious, life-changing damage."