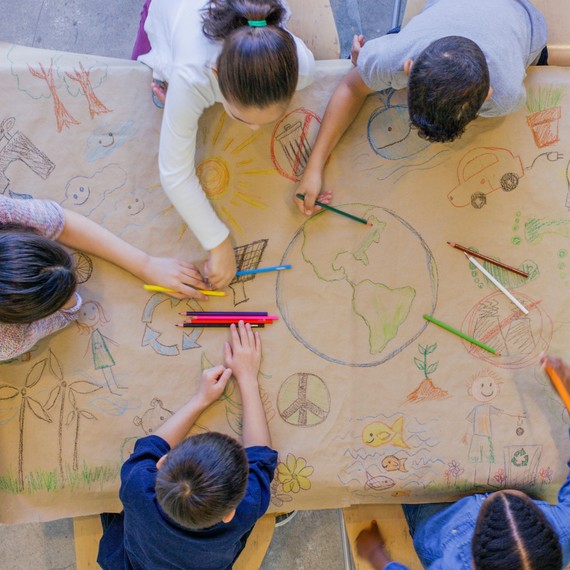 Textbooks and homework aren't the only things your kids may be bringing home from school. According to a new study, published in the journal Nature Climate Change, teaching children about climate science in the classroom can also increase their parents' environmental awareness and concerns.
The study, led by researchers at the North Carolina State University, involved 238 middle schools students, their teachers, and 292 parents. First, all of the students and parents took a pre-survey measuring their concerns over climate change. The survey used a 17-point scale to measure concern levels, with -8 being "not concerned at all" and +8 being "extremely concerned." Then, parents and students were split into two groups—one group (the experimental group) would receive a climate change curriculum and the others (the control group) would not. After completing the curriculum, participants took a follow-up survey on their levels of concern for the matter. 
The findings? While students who didn't receive a climate curriculum still showed an increase in concern of 0.72 points, students who did receive the curriculum saw a 2.78 point increase. For parents, those in the control group had a 1.37 point jump compared to those in the experimental group who saw a whopping 3.89 point jump.  
"There's a robust body of work showing that kids can influence their parents' behavior and positions on environmental and social issues, but this is the first experimental study demonstrating that climate education for children promotes parental concern about climate change," says Danielle Lawson, lead author of a paper on the work and a Ph.D. student at North Carolina State. "It also highlights that children share that information with their parents, particularly if they're given tools to facilitate communication—and that parents are willing to listen."
Another interesting finding? Fathers and parents of daughters had particularly noticeable results, with levels of concerns jumping over four points between surveys. Typically, men express some of the lowest levels of concern over climate change, the study's authors noted. 
"This is about education, not activism, and children are great educators," adds Kathryn Stevenson, co-author of the paper and an assistant professor of parks, recreation and tourism management at North Carolina State. "They seem to help people critically consider ways in which being concerned about climate change may be in line with their values."