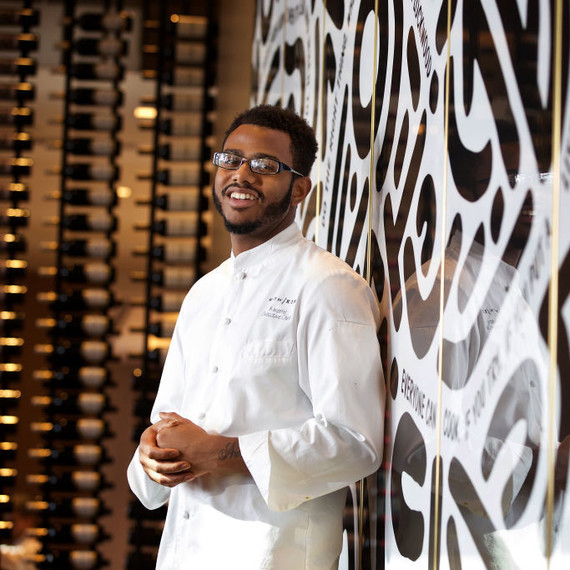 Wondering where to go out for dinner this weekend? We suggest taking your pick from the list of winners of the 2019 James Beard Foundation Restaurant and Chef Awards, which were announced last night in a ceremony at the Lyric Opera of Chicago. The biggest awards of the evening went to Ashley Christensen for Outstanding Chef at Poole's Diner in Raleigh, North Carolina, and Zahav in Philadelphia for Outstanding Restaurant. New York City's Frenchette was named Best New Restaurant, and Rob Katz and Kevin Boehm of Chicago's Boka Restaurant Group were named Outstanding Restauranteurs after four years of consecutive nominations in the category. Boulder, Colorado's, Frasca Food and Wine was honored for Outstanding Service, while Greg Wade of Chicago's Publican Quality Bread was named Outstanding Baker.
This year, there was a clear effort to recognize a more diverse class of honorees in an industry that has been largely dominated by white men. In October 2018, the James Beard Foundation announced that it would increase its diversity across all of the Award programs to reflect the U.S. census. The shift was apparent in some of the winners—Kwame Onwuachi, the 29-year-old owner and executive chef of Kith/Kin in Washington, D.C., pictured above, was named Rising Star Chef of the Year. Onwuachi, who recently published the memoir Notes From a Young Black Chef, called the award "my ancestors' wildest dreams." Kelly Fields of New Orlean's Willa Jean was named Outstanding Pastry Chef, while Best Chef: South was awarded to Vishwesh Bhatt of Snackbar, a native of Gujarat, India. Nine additional regional awards were announced; Best Chef: NYC was given to Jody Williams and Rita Sodi, who are the co-chefs of Via Carota.
In the drinks categories, Rob Tod of Allagash Brewing Company in Portland, Maine, was named Outstanding Wine, Spirits, or Beer Producer; San Francisco's Benu took home the award for Outstanding Wine Program, and Outstanding Bar Program was given to Bar Agricole, another San Francisco staple.
The James Beard Awards, which are considered to be the Oscars of the culinary world, previously recognized one of Martha Stewart Living's own. Thomas Joseph, host of Kitchen Conundrums, was awarded Best Video Webcast in 2017. 
The full list of 2019 James Beard Award Winners can be viewed here. The 2019 James Beard Foundation Media Award Winners were announced on April 26th.