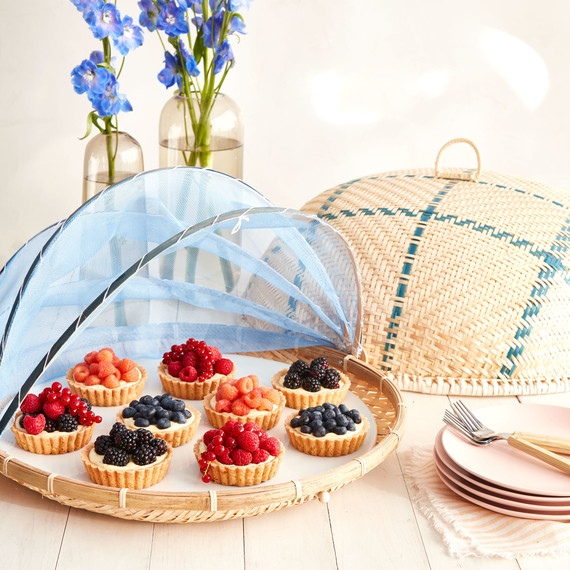 What does it look like in the hours immediately following a party? We pack everything up, clean and clear the space, and put our single-use plastic bottles, cardboard boxes, and more into the recycling bin at the side of the curb. But recycling alone may not be enough to reduce the pollution and its harmful side effects on our planet. Plastic waste still ends up in our oceans, ultimately harming marine life and contaminating water. Enter the zero-waste movement, which has gained momentum in recent years to pare down our single-use waste. What does that mean for one-time celebrations, both formal and casual? There's no need to forsake fanfare and fun. It's simply rethinking those decorations, tabletop essentials, the food served on the menu, and how the leftovers are treated. 
While many of us won't be able to reduce our carbon imprints to a mere mason jar, we can certainly make small changes over time. We talked to several party planners about how to plan such affairs with zero waste in mind.
Remember the Three Rs
One of the easiest ways to plan a party is to make a list of everything you need and then look at it through a zero-waste lens. "When you first put together an eco-friendly party, think about how each component of your event needs to be eco-friendly or zero waste," says Teal Nicholson, creative director at LLG Events. "So, if you think of it as the three things we learned in school—reduce, reuse, recycle—we see if we can apply one of those to every element that we have going on like the invitations, the florals, the food." First, consider three main decisions: "When it comes to parties, I always decide on the theme, then the guest list, and the menu at the beginning," explains Chrystina Cappello, who regularly hosts themed parties. "The eco-friendly part of the equation comes into play when I start to plan the logistics."
Send Invitations and RSVPs Digitally
Printing your invitations and sending them in the mail? You may want to consider another option for letting your guests know about your party. "Kick your party off with the ultimate eco-friendly move: paperless invitations. Paperless Post and social media offer gorgeous options," says Liz Curtis, founder of Table + Teaspoon, a nationwide party rental company. "If your event requires the elegance of a mailed invitation, opt for tree-free cotton paper." Guests can also RSVP online. Lauren Grech, CEO and co-founder of LLG Events, suggests setting up a website for guests to let you know that they are coming. "This has been really popular with our brides and grooms right now, especially for destination [weddings]. We don't have things shipped all over the world because of the digital invitation, and then the RSVP comes in through a website or a special email we create for them. That cuts the waste down."
Source Locally
Grech and Teal Nicholson, also of LLG Events, recently planned a destination wedding in Bora Bora. Instead of having things shipped to them for the wedding, they sourced as much as possible from their location. "Something that we did in Bora Bora, we had an overwater lunch where everything was from the land," says Nicholson. "We had plates made of palm leaves; everyone ate with their hands or these mini-leaves that were like scoopers; people drank out of coconuts." They used local materials that would be safe even for the marine life, in the event that guests dropped things onto the ground or overboard. "Everything we used was biodegradable," Grech explains. "We used [natural materials] from the land, ate like the locals."
Rent or Borrow Tabletop Essentials
Your party will likely need dishes, silverware, mugs, glassware, and cloth napkins. Forget using paper plates and disposable flatware. All of that ends up as waste in the garbage and goes to the landfill or worse, ends up loose in the environment. "Not everyone has enough dishware and linens to serve an entire party, which is where rentals become a fantastic option. At Table + Teaspoon, all of our packaging is crafted to be anti-microbial and sanitizable," says Curtis. "This enables us to be zero-waste because both our packaging and products are reusable. The only component that goes in the trash from our boxes is the shipping label." What to do if you don't want to rent your tableware for the evening? "You can even borrow these items from friends, family, neighbors, or folks in your local swap group," Cappello says.
Set Up Compost and Recycle Bins
Your guests might not be eco-conscious on their own, so make it easier for them by having recycling and compost bins in obvious areas and clearly marked. "Set up compost and recycle bins ahead of time so that you don't have to sort through garbage after your guests leave," Curtis says. "If you want to go the extra mile here, make four separate bins labeled 'Landfill' (plastics), 'Recycling' (cans, bottles, paper), 'Dry Compostables' (biodegradable, single-use products), and 'Food Waste' (leftovers and anything wet)."
Use Eco-Friendly Containers for Leftovers
What are your plans for leftover food? Untouched food should not be thrown away. "One of the most trash-producing parts of the party is putting away all the extra food. If you use Tupperware or beeswax wrap instead of plastic wrap, you can save a lot of trash," says Cappello. "If you know there's going to be a lot of leftovers and you want to share, you can ask guests to bring Tupperware for a doggy bag as well." And if you chose a menu that your family loves, you can take a break from making dinner for the next few days. Some of the food could even be frozen to be eaten at a later date.