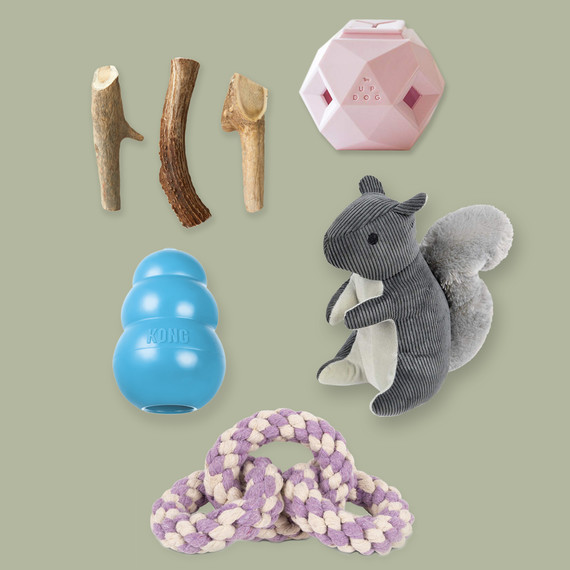 If you've ever lost a favorite shoe to your pup's exuberant chewing, you know the importance of keeping him stocked with quality chew toys. A bored dog is going to find his own, but you can keep him interested with a variety of toys that he'll find more entertaining than that couch cushion—trust us, your belongings will thank you for it. Of course, some dogs present more of a challenge than others when it comes to toy shopping, and if your best friend has a serious set of chompers you'll want to be sure to give him toys that are not just long-lasting while still being safe. Here are five heavy-chewer approved toys sure to keep your pup occupied—and out of trouble—for many happy hours. (Although you still might want to remove those shoes from view!)
Billy Wolf's Deer Shed Antler Chews
Bring out your pup's inner wolf with these irresistible treats—wild-found, naturally shed deer antlers. They last for ages, and unlike some natural chews, are odor-free. They also pack minerals and calcium and are great for keeping pup's pearly whites clean, so they're a winner on all counts. No two are alike, so get a few to switch out and keep things interesting.
Harry Barker's Rope Tri Toy 
Who's up for a game of tug of war? This classic rope toy from Harry Barker gets an upgrade with eco-friendly recycled yarns in vivid black and white or pretty lavender stripes. The three-ring design makes it all the easier for you to hang on when your pup latches on for a spirited game, and offers plenty of material for his chewing pleasure.
Odin Toy
Enter the Odin: a treat-dispensing toy for the toughest of chewers. Its sleek, modern design means you won't even mind seeing pup's toys scattered around, but chances are your dog won't let it out of his sight once he learns how to get the goodies out of it. Mix things up by making dog treats harder to get, or by attaching two or more toys together for a whole new play experience. With a percentage of proceeds going toward saving animals at Motley Zoo Animal Rescue, you can feel as good about this purchase as your dog does.
Martha Stewart's Corduroy Squirrel
Every dog wants to chase squirrels: get your pup his very own squeaky version. This charming plush toy has a bonded mesh interior and reinforced seams so it will stand up to a growing puppy's chewing. Bonus: when it's good and soggy from a sustained attack, you can toss in in the wash. 
Kong
Beloved among canines everywhere, the Kong is a rock star among dog toys. Stuff the indestructible toy with something your dog loves like peanut butter, then freeze it, and your dog has many hours of happy work getting the treats out. Or fill it with treats for another type of excavation challenge—either way your pup will only have eyes for his Kong.