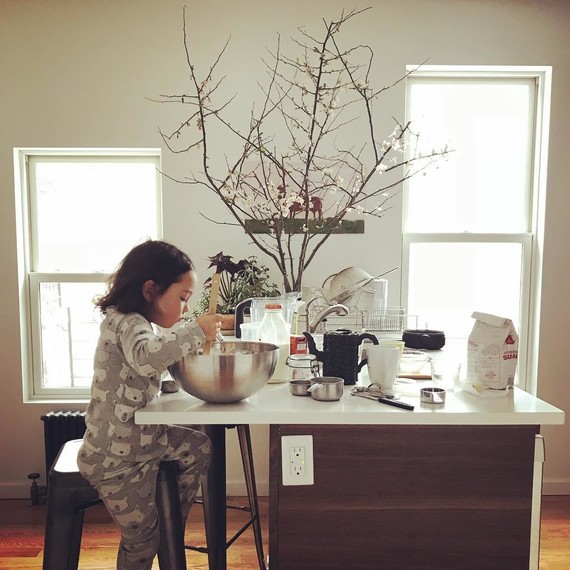 From teaching valuable life skills to keeping hands busy while you start on dinner, cooking with your kids can be as fun (and tasty!) as it is educational. According to experts, inviting children to be a part of meal prepping not only encourages them to try new foods, but can also help build their confidence. And while issues of safety might have you hesitant about bringing tots into the kitchen, there are plenty of safe ways to introduce them to cooking. To help you navigate, we asked Shira Bocar, food editor at large and mom to 4-year old Nova and 11-month old Samuel, to share some of her tried-and-true tips for getting kids involved in the kitchen.
Keep It Simple—And Fun!
Raising a keen cook doesn't require any special equipment. With Nova, Shira says introducing her to mashers (for making applesauce or mashing potatoes) and a baby whisk (for beating eggs or mixing marinades) was a good starting point. "She also likes shaking vinaigrette in a jar and adjusting the speed on the stand mixer," says Shira. "And she really loves cookie cutters and arranging things in a grid on a baking sheet." Even prepping pans for baking can turn into a crafty project with the help of a pasty brush: "Nova really loves 'painting' baking dishes with butter."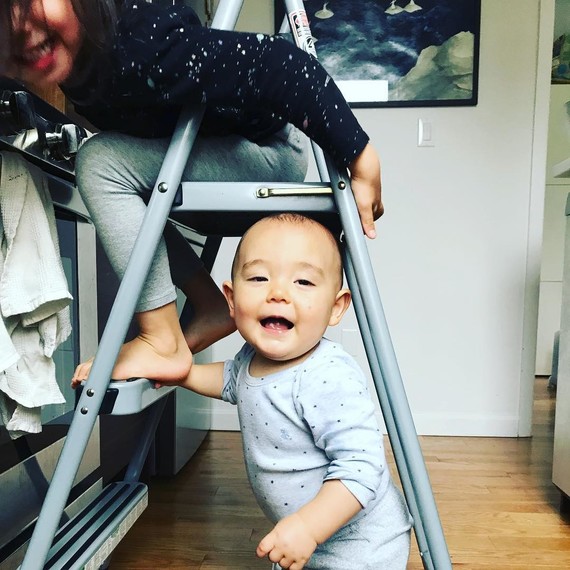 Use a Step Ladder
Whether reaching for ingredients on the top shelf or taking a seat to watch and observe, a step ladder can certainly come in handy, especially if you have little ones. "Nova likes to be in the middle of the action when I'm cooking, so she often gets to watch from a step ladder," Shira says. "It's also really been helpful because it keeps her in one spot and I can position the step ladder a safe distance from the stovetop."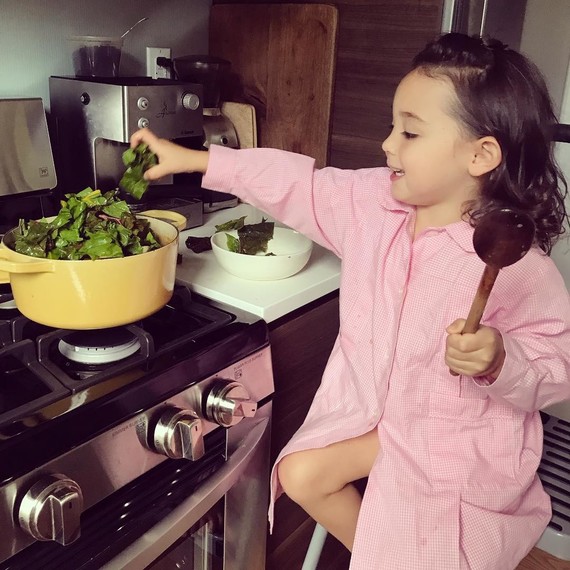 Let Them Prep Produce
Not only is this a great way to get them familiar with a variety of fruits and vegetables, but it's also a simple way for them to get involved in an important part of food preparation. For Nova, Shira says picking herbs or removing kale stems is a great go-to task. Letting kids rinse off produce in the sink or with a bowl and colander can also be a great way to get them involved. 
Teach Them Measuring 
If your little one loves scooping things up and dumping them into bowls, let them be in charge of measuring out dry ingredients. "Nova likes measuring, so I'll set her up with a bowl of dried beans or rice and a set of measuring spoons," adds Shira. Plus, measuring is a great opportunity to sneak in a mini math lesson from basic counting skills and fractions to addition and subtraction—even weights! "Nova also really gets a kick out of the digital scale and will take the weight of just about everything on the counter." 
For more of her can't-miss kids' cooking adventures, follow Shira on Instagram @shirabocar.