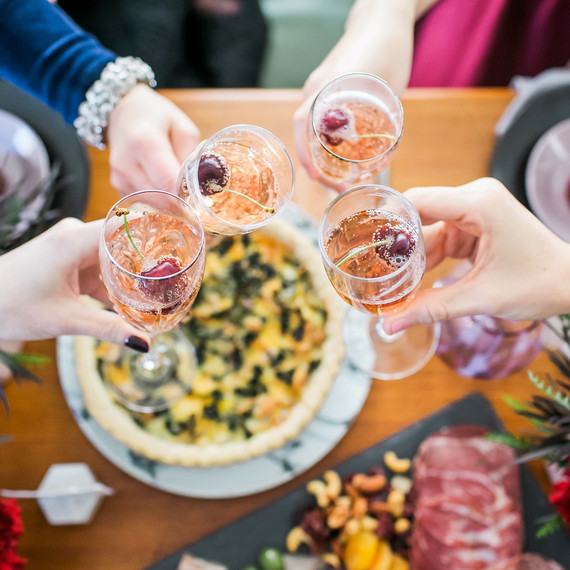 You've been invited to the dinner party. It may be a casual, laid-back gathering of long-time friends, or it could be more formal occasion like a fundraising event or an awards ceremony. Much work goes into hosting a dinner party. That's why, as guests, we have a responsibility to conduct ourselves in a polite manner. Following basic rules of etiquette as a dinner party guest increases your chances of being invited back, says Jacqueline Whitmore, etiquette expert and author of Business Class: Etiquette Essentials for Success at Work. "You will make a good impression on your hosts and other guests," she says. "Your kindness will [also] be remembered."
Even if such social soirées tend to make you feel uncomfortable, remember that you don't have to know everyone seated at the table or be the star of the evening in order to make a good impression. "The whole point of a dinner party is to partake in a meal while enjoying the company of others," says Jodi R. R. Smith, president of Mannersmith Etiquette Consulting. "There is a tremendous amount of work that goes into planning a party (along with cleaning, shopping, arranging, cooking, and more cleaning). A gracious guest assists in making the interaction pleasant for all involved." Follow these etiquette rules if you want to be the ideal guest and earn that second invitation.
The RSVP
It's official: you're invited. Now, it's important that you answer the RSVP as soon as possible. Your host needs to know how many people will be attending the party in order to properly plan for it. It's a good idea to advise the host of any dietary restrictions or allergies that you may have. "When given advance notice, the host has the time to accommodate," says Smith. "Keep in mind that not all hosts are also gourmet chefs. If you have a difficult dietary restriction, offer to bring a dish to make hosting you a bit easier."
The Arrival
Don't neglect the start time listed on your invitation: You shouldn't arrive too early or too late. "Arrive on time," says Whitmore. Avoid bringing any additional guests that have not been cleared by the host of the dinner party first. If an unexpected plus-one materializes, any gracious host is likely to welcome them in, but "the more, the merrier" is a phrase that does not apply here. She also advises bringing a gift for the host or hostess. When it comes to gifting, Smith suggests the traditional bottle of wine or a box of chocolates. "Or you can take it up a notch by having flowers delivered earlier that day or choosing something tailored to the host," she says.
During the Party
What should you do if you don't know anyone except for the host? Come with a few talking points in mind. "Be prepared with witty stories and interesting tales to keep the conversation lively," Smith says. "But don't monopolize the air-time. Be curious about others and ask engaging questions of others." You also don't need to feel compelled to speak to everyone at the party (especially if it is a large gathering). Participate in conversation that you feel comfortable joining and introduce yourself where appropriate. If you know a few people at the dinner party, they can help you with introductions to other guests. You should also do the same for other guests.
Surviving the Faux Pas
But what should you do if you make a social blunder while at the dinner party? It can certainly happen to the best of us. First and foremost, you do not want to get overly defensive or turn it into a yelling match. "Offer a sincere apology—verbally and/or in writing —as soon as possible," Whitmore says. The longer you wait to apologize, the worse the faux pas becomes. And accidents do happen. It all depends on how you handle the aftermath if you want to be invited to the next dinner party. "If you damage something, offer to repair or replace it," Whitmore says. "Send flowers if necessary."