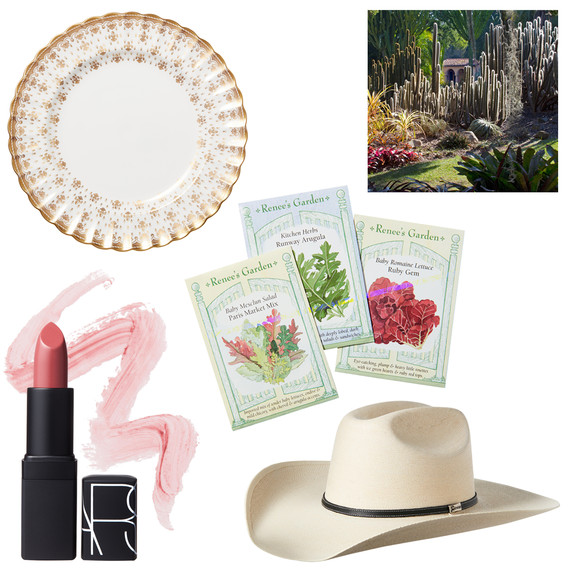 As a kid in Santa Monica in the '70s, this garden designer practically lived outdoors—jumping in her pool, playing ping-pong in the sun, and watching her dad flip burgers on the grill. (Yes, it's the stuff of dreamy Super 8 films.) That laid-back Cali vibe fuels Kameon's bold, joyful work today, and has attracted clients like Sofia Coppola and hotelier Sean MacPherson. She has mixed majestic olive trees with nearly neon bougainvillea at the Parker Palm Springs hotel, and planted a haven of sculptural cacti and agaves in front of Isabel Marant's Melrose Place store.
That feeling permeates her personal style, too. "I love pattern and color, and I'm not afraid to put two or three things together that may not be obvious to others," says Kameon, who'll throw a Dosa dress over wide-leg pants and add a floral scarf. The outfit takes her from office to job site and home again, where she has dinner with her husband and son under a stately pepper tree—and gets right back to her roots: "I'm always trying to capture that easy outdoor living."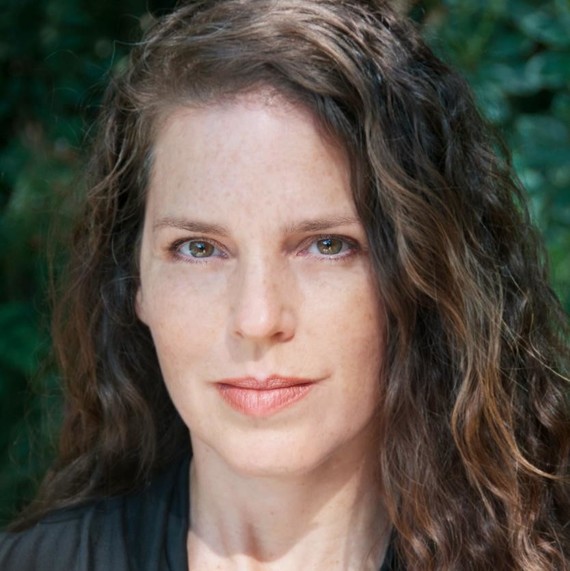 Her Essentials
"My home is a mash-up of Danish modern design, contemporary art, vintage oddballs, travel finds, and things we make."
Renee's Garden Seeds, from $3 a packet, reneesgarden.com
"It's so satisfying to go outside, pick a bowlful of fresh greens, and make a salad right in the moment."
Nars Lipstick in "Dolce Vita," $28, narscosmetics.com.
"I wear it for daytime, and the darker Gypsy at night."
Lotusland garden, Santa Barbara
"There's so much to love here, like the stunning all-blue foliage room, and the wonderful story behind it: Owner Madame Ganna Walska auctioned off her jewelry to pay for the cycad collection."
Atwood Marfa Low Crown 7x Hat, $48, atwoodhats.com.
"You can always spot me on a job site: I'm wearing this cowboy hat. It's got a big brim to block the sun, and it holds its shape."
Spode Fleur de Lys Dishes, in Gold, $95, replacements.com.
"I inherited the pattern from my grandmother. It takes me back to a world of bone china and hatboxes and gloves."
Dosa Indian Coat, $735, dosainc.com.
"It's the perfect blank canvas, and it's comfortable, yet I always feel pulled together in it."
Le Labo "Santal 26" Candle, $65, lelabofragrances.com.
"I don't wear fragrances, but sometimes my house does. The scent is subtle but intoxicating."
Plain Air Tile Table, from $500, plainair.com.
"My husband, artist Erik Otsea, and I started our outdoor-furniture line when I couldn't find the pieces I wanted for my design projects."
All Good Goop, from $9 for 1 oz., allgoodproducts.com.
"If I could bring only one thing to a desert island, it would be this miracle balm. I use it on my lips, my hands, and anywhere I need a little extra."
Epice Green Floral Scarf, $295, lostandfoundshop.com.
"I like to dress in layers and am rarely without a vibrant scarf. I love the color green because, just as in nature, it goes with everything."
IKEA Ivrig Glasses, $2 each, ikea.com.
"We use this stemless style for daily use and parties. I buy them by the dozen."