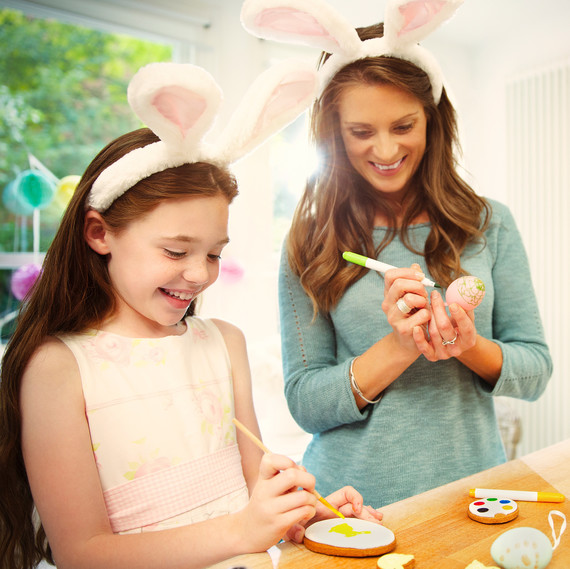 If you think that Easter feels extremely late this year, you're right—in 2018, it fell on the very first Sunday in April; this year, Americans will have to wait until the very last Sunday of the month to celebrate the holiday. But that's not stopping people from preparing for the big celebration: In fact, it may lead to shoppers spending more money than they did last year on Easter party supplies, décor, food, fresh flowers, gifts, and, of course, candy.
According to the latest Easter annual report from the National Retail Federation, where information is presented in part by research collected by data firm Proper Insights & Analytics, eight in 10 adults in the United States will celebrate the religious holiday in 2019. The report says that those celebrating Easter will spend an average of $151 on supplies and materials leading up to the holiday this year. Even those who aren't planning to celebrate Easter will still spend money; 48 percent of these shoppers still plan to take advantage of Easter sales in stores across America. While Easter spending is down since reaching record highs in 2017, the event is still expected to generate a whopping $18.11 billion in 2019.
What are Americans buying for Easter? Think about your Easter plans. They probably involve food, which is where the majority of this money goes—American shoppers will spend the largest chunk of that $18 bullion on groceries. Planning an Easter menu in the weeks leading up to your spread is essential, and since many families gather for a multi-course meal on Sunday evening, it's expected that shoppers will spend an average of $47 on ingredients to cook tasty Easter brunches, lunches, and dinners.
Finding a new outfit for dinner may motivate some shoppers to swipe credit cards, as will choosing a special Easter gift for loved ones or friends. Elsewhere, Americans may spend extra cash on decorations, fresh flowers, and sending heartfelt Easter cards in advance of the holiday. And the Easter bunny? The report suggests that adults will spend an average of $20.78 on all the sugary, chocolatey essentials for an Easter basket this year.
Over half of those celebrating Easter will spend it at home visiting family and friends, which reflects a growing trend among younger adults that suggests celebrating Easter is more of a social opportunity than a religious one; younger consumers between the ages of 18 and 24 told the NRF that they see Easter shopping as a social activity with family as friends. Which makes sense, given that 32 percent of everyone surveyed said they're planning a Easter egg hunt this year, one of the greatest Easter traditions any family can partake in.
Whether you've already started shopping or are just beginning to plan your celebrations, there are many ways one could optimize Easter budgets without sacrificing quality. We'll spend the next month sharing our favorite DIY crafts for beautiful Easter decorations, must-haves for any Easter tablescape, big-batch recipes for any Easter feast, sweet treats for all of your guests, and eggscellent Easter eggs that will outshine any store bought creation. Hop to it!