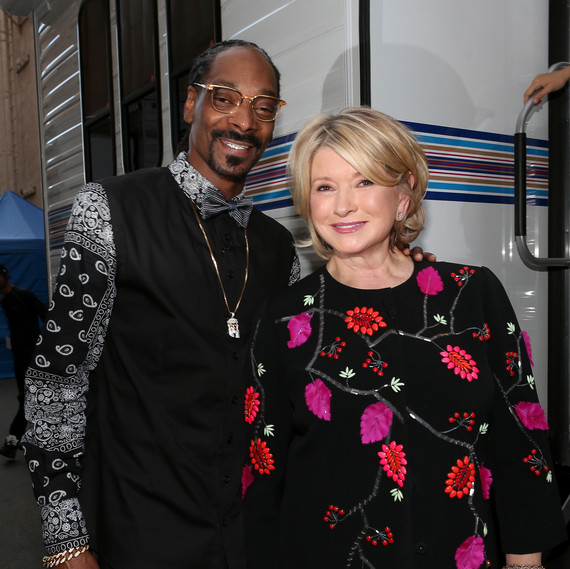 The newest season of Martha & Snoop's Potluck Dinner Party hasn't premiered yet, but fans are already in tears over the latest teaser that features our favorite cooking duo. VH1 just dropped a new trailer featuring Martha Stewart and Snoop Dogg in what seems to be the best Titanic homage we've ever seen.
This special season brings a new competitive twist to the show—called Martha & Snoop's Potluck Party Challenge—and a stellar lineup of celebrities and film stars are taking part in a new competiton-style iteration (complete with themed episodes and guest judges). This season, Martha and Snoop will team up with guests and compete in fun cooking challenges, which will definitely result in hilarity and some delicious eats.
The season's first promo video features the two hosts of the show, in a cinematic recreation of one of the most celebrated moments in American film history.
It starts out with a hazy shot of Martha in the kitchen, flittering along to the iconic Titanic theme—"My Heart Will Go On" by Celine Dion—from James Cameron's original 1997 film featuring Leonardo DiCaprio and Kate Winslet. But this time around, it's Martha and Snoop that snuggle up to each other in a nautical-themed kitchen overlooking a gorgeous (green screen) sunset.
The clip's ending reveals that Martha has been pushing Snoop towards a deep-fryer the whole time. "Open your eyes," Martha whispers into Snoop's ear before the hip-hop star realizes he's successfully firing up a batch of french fries. "I'm frying," Snoop says in bewilderment. "Martha, I'm frying!"
If this video has you impatient for next season, don't worry: Potluck Party Challenge will air its first episode—featuring Matthew McConaughey and rapper Method Man as well as Isla Fisher as a guest judge—on Wednesday, April 3, at 10 p.m. on VH1.